With most gyms currently closed due to the global coronavirus pandemic, it's hard to tell when or if things will ever go back to the way they were before. I've been having conversations with our users and other gym owners about their concerns and ideas for how to respond to the situation, and have been following closely on how other industries are handling it.
There's a lot of conflicting information floating around, and I encourage everyone to do their own research. We do have a better vantage point with regards to martial arts gyms due to our ongoing contact with all of you and other similar businesses. So I hope you can use this article as a starting point to help you make sense of what to do next.
Spanish version of this article available here.
Should you re-open at all?
The decision of whether to open your gym in the middle of a pandemic is a personal and difficult one. From my standpoint it comes down to the following factors:
Can I provide a safe training environment for my members?
Does it make sense financially – in the short and in the long term?
Do I feel safe to train in those conditions?
Only you can answer those questions for yourself and the situation you're in. Let's provide some context by going over why governments needed to shutdown business in the first place. There were two main reasons:
1. To slowdown community spread of the coronavirus to avoid overwhelming the health care system (also commonly referred to as "flattening the curve")
2. Buy enough time to increase the testing capacity and develop therapeutics to reduce the severity of the disease.
Most countries that employed a form of shutdown / "stay-at-home" orders have seen their curve flattened to some degree. However, testing capacity is still lagging in most places, and effective therapeutics have yet to emerge.
I've seen some debate on whether it makes sense to open gyms back up before a vaccine is available. It's important to consider that a) a vaccine is at least 18 months away, and b) there's no guarantee that it's possible to develop a vaccine for this virus.
I do believe that with some adjustments, which I outline below, you can train in a way that minimizes the risk – once sufficient testing and therapeutics are in place – and get back to some degree of activity.
The other thing you have to consider is the members themselves. Most want to train in covidsafe martial arts schools or gyms. So your messaging needs to be persuasive and clear about how you plan to be just that.
5 Points For Re-opening
I've been talking to gym owners to get a sense of what people are doing, as well as taking cues from other industries that have been similarly impacted, such as restaurants. I've summarized the approaches I've seen into 5 distinct topics you should work on when preparing to re-open.
Social distancing and capacity control
Testing and contact tracing
Sanitation and protective equipment
Member communication and education
Protecting at-risk members
There's a lot of nuances to each which we'll go over in detail:
1. Social distancing and capacity control
One of the main guidelines published by every health organization is the need for social distancing to reduce the risk of infection. The common guideline is 6ft / 2m between people.
How do you apply that in practice when training in a sport that requires a lot of movement? You can designate training areas that are separated by 6ft in each direction. The size of the training area depends on what you feel would be comfortable to perform movements in. Here's an example layout where each training area is 6ft x 6ft (2m x 2m), separated by at least 6ft from other training areas –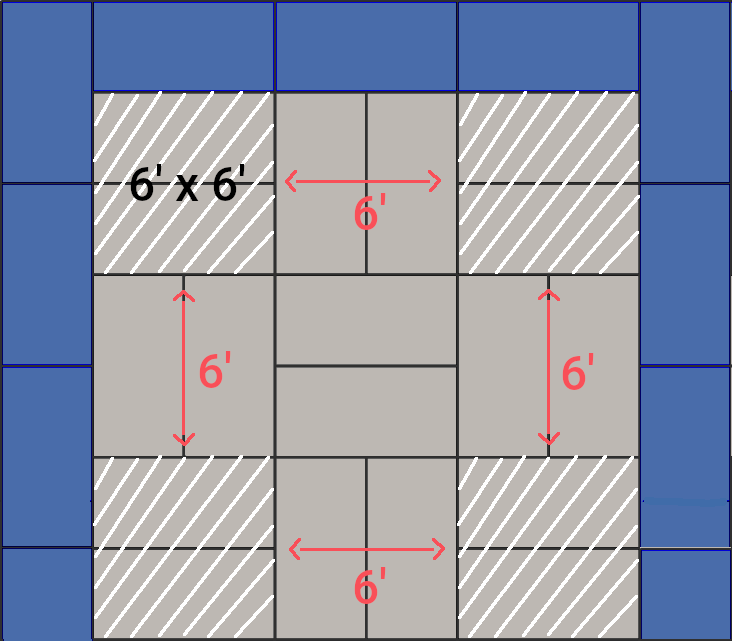 Mark down the training areas with tape on the mat so it's easy to see where the boundary of the area is.
I would initially start with one person on each training area. If the measures in this guide prove successful, you can consider pairing up people in each area after a few weeks of no rise in infections in your area. Pairs should train together exclusively at least for the entire session, to reduce the chance of one infected person infecting everyone, and possibly stay paired for the entire week / month (more complicated logistically, but possible if those are family members or close friends).
If any person is later tested positive for COVID-19, their ability to spread the infection was limited to mainly the people they trained with (though not necessarily. It's important to notify everyone who trained at the same time – see the section below regarding contact tracing).
The amount of mat space you have will then determine the max number of people that can train at the same time while maintaining social distancing. This is in addition to local government guidelines, which might have specific guidance on the amount of people allowed at any one time.
For example, check out this guidance distributed to restaurants and caterers in Hong Kong, one of the areas that had employed measures successfully to control the spread of infection (screenshot from a video) –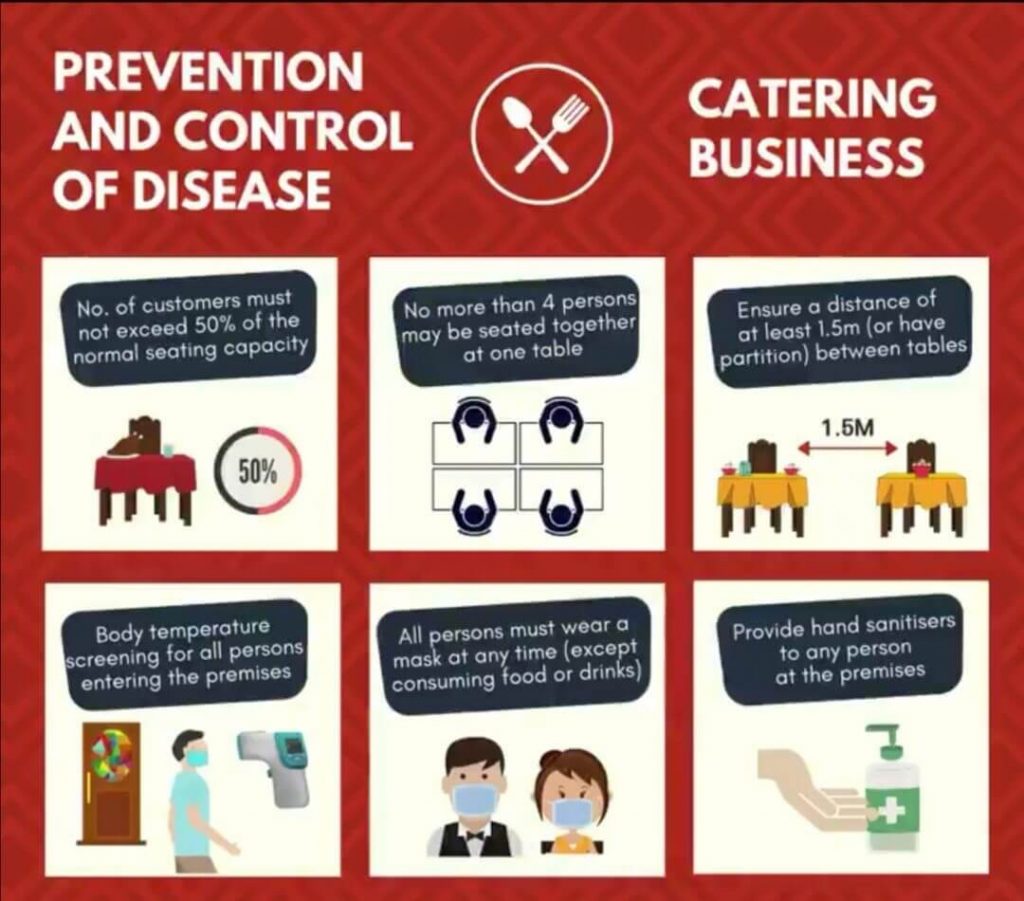 Hopefully, you will see similar guidance provided by your local government, however you can always refer to countries that had successfully implemented those measures for inspiration otherwise.
Once you figured out how to divide your mat space to training areas, and how many people can train at any one time, you also need a way to implement that capacity control which can be hard to keep track of.
We've been adding features to support these measures through our platform – you can now limit the number of people who can book a session to a specific number, and also display the number of people who already booked on the calendar. This allows people to find available sessions that have not reached max capacity yet, and to also do their own risk assessment (such as joining less crowded classes).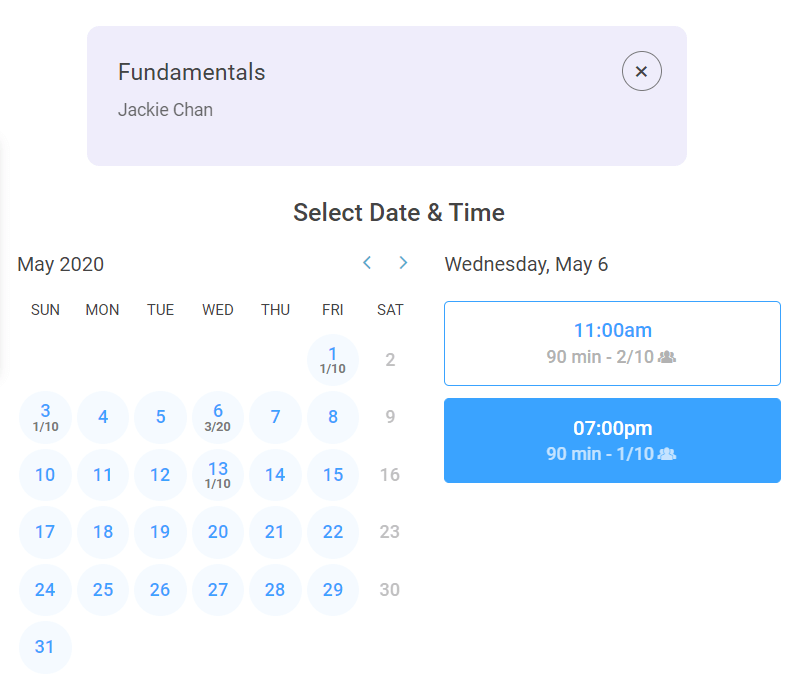 Distancing should extend to other parts of the gym as well – no huddling together in close groups, maintain 6 ft apart at all times, before and after class. This includes the locker / changing rooms – so if it's not big enough to practice social distancing, only one person should be allowed at any time.
2. Testing and contact tracing
Currently testing is still limited in most areas of the world, and requires specialized equipment and trained personnel. Part of the reason is the chemicals needed for existing tests are in short supply, and it takes time to analyze the results – with many labs currently heavily backlogged. New tests1 are being developed2 that could be produced much more rapidly and provide quicker results, which would help significantly to control and isolate infection spread. [1], [2]
Increased testing capacity will increase the ability to track the infection spread and allow more businesses to reopen safely.
Until (and if) SARS-CoV-2 tests become available to small businesses or even home testing, one tool you can use right now is a forehead thermometer. One of the problems that make this coronavirus so infectious is that people could be spreading it before showing any symptoms. However, the existence of flu-like symptoms should still be used to exclude people from training, and a contact-free thermometer is a quick and easy way to make sure no one comes to train with a fever.
In addition, all people showing up to practice should confirm no symptoms of COVID-19 within the last 14 days, including:
Fever
Cough
Shortness of breath or difficulty breathing
Chills
Fatigue
Headache
Sore throat
Loss of taste or smell (if not a previous ongoing condition)
Source: this excellent write-up by Chris Moriarty, a MD and BJJ black belt.
Enforcing proper distancing and testing might require dedicated staff – you need someone at the front door screening people before class – taking temperature and confirming no symptoms for the last 14 days, and someone making sure social distancing is maintained throughout training on the mats and in the locker rooms. This depends on the structure and size of your gym and staff, so plan ahead if you're not sure your current staff assignments can handle it.
Contact Tracing
When you have enough testing and data about the infection spread, you can perform contact tracing – a process in which you trace all the contacts an infected person had during their infectious period, and have them test as well and self quarantine if necessary.
This will require businesses who have walk-in customers, including martial arts gyms, to keep a log of everyone who visited, their times of visit, and to be able to cross reference everyone else who visited at the same time as someone who later tests positive for the disease.
South-Korea, one of the countries that had the most successful application of these measures, allowed indoor sports including martial arts gyms, to re-open as of April 20th. Those gyms have applied many of the measures I outlined above, including keeping a visitor log of all the members who come in to train.
If you use our attendance tracking feature or similar software, then this should already be a part of your regular routine, though you should make sure everyone that shows up, checks-in. Otherwise, make sure to add some form of attendance tracking, even if it's just using a pen and paper, and keep records for at least a few weeks.
3. Sanitation and protective equipment
Hopefully, you were already cleaning your mats between each session. Your cleaning efforts are about to go to the next level, as common touch surfaces are one of the main spread vectors for this virus.
In the US, check if the disinfectant you use is EPA listed for use against the virus (you should have similar guidelines in your country). The CDC website has cleaning instructions which include the use of gloves (either disposable, or dedicated for cleaning). Make sure to clean surfaces that are commonly touched, such as door handles, the front desk, seating areas and the toilet. Do this between every session – you might need to arrange your schedule to allow for sufficient cleaning time between sessions.
Provide hand sanitizer at the entrance, or better yet – have everyone clean their hands with soap for at least 20 seconds after walking in and taking off their shoes, if possible. Make sure everyone is using clean uniforms – though this should always be the case, now more than ever it's important to insist people wash their uniforms between each practice.
Consider having everyone wear masks. I know this might be difficult, depending on the level of fitness and intensity of the session, but it can be done. Look into biking masks, such as this one, which have small release valves that reduce the heating inside the masks which could help. Gloves are also an option to consider. It will definitely be less comfortable, but at least initially it's better to be safe than sorry.
4. Member communication and education
One of the key elements for gyms to make it through the shutdown and then successfully re-open and apply the right safety measures, is to keep members constantly informed of your situation, future plans and projected timeline.
Don't go dark on your members. Let them know that you are still keeping the gym going and have a concrete plan to re-open once it is safe to do so. I've seen too many stories of gyms stopping all communications after shutting down, and members are then justifiably concerned the business has gone under and order all payments to be stopped – even if they would have otherwise continued to support the gym.
If you are running online classes, then you should be already communicating with your members on a regular basis. Online classes can only keep members going for a time, so it's important to also communicate your plans for reopening. It can help allay members' concern and tide them over until it is safe to re-open.
Once you have a good idea of the safety measures you will be taking, make sure to communicate those to members as well in advance. Explain the capacity limits and how you will organize class attendance (via online booking or otherwise), the sanitation measures you'll be taking, what is required from members – such as personal equipment (masks, gloves), behavior at the gym (washing hands, not shaking hands) – so everybody is prepared ahead of time.
It's also important to communicate to everyone not to show up if they are experiencing any symptoms. Even though there are many diseases that share similar symptoms, it's better to be safe than sorry in this case. Ask members to wait a week or two after symptoms disappear, to make sure they don't infect anyone at the gym. If it's possible at the time, ask them to get tested before returning to train.
Add educational materials at the gym as well – print a list of the safety measures to be taken at the gym, and hang it on the wall in a visible location. Here's a basic list you can use or adjust according to your needs:
Have a fever / dry cough / shortness of breath / loss of taste or smell /chills? Stay at home.
Maintain 6ft from each other and no physical contact [except with your designated partner] (*once you decide to allow partnering)
Bring your own mask and gloves to train. (* unless you plan to provide those)
Wash your hands with soap when you arrive for at least 20 seconds. (* or use a hand sanitizer if you don't have a sink available)
5. Protecting at-risk members
The disease caused by the SARS-CoV-2 virus, COVID-19, presents a significantly increased risk to certain segments of the population. Older people, and people with existing medical conditions are at a much higher risk for the disease to be severe and possibly fatal.
Research shows the most common comorbidities (existing conditions for COVID-19 deaths) are hypertension (high blood pressure), obesity and diabetes. Other existing conditions that should take extra caution include:
People with chronic lung disease or moderate to severe asthma
People who have serious heart conditions
People who are immunocompromised
People with chronic kidney disease undergoing dialysis
People with liver disease
As for age groups, people over 60 are in the highest risk group, though people 50 and over are also a higher risk group.
I would recommend advising people in those groups to not attend training immediately after re-opening, and wait until it is safer to do so, based on the success of implementing the safety measures and how well new community transmission is being controlled in the weeks / months after businesses re-open. I would extend the same advice for people who live or work with people in those risk groups (people who live with older parents or visit them often, or work at a nursing home).
Training in the post-COVID world
These are tough times for all of us, but we'll get through it. I know it's a lot to take in, but people are resilient and adaptable. I'm sure we'll all get used to it and it will become mostly an inconvenience after a while – a small price to pay for being able to train safely.
I also believe that those measures are mostly temporary – as most of the world is dedicated to fighting this virus, medical science will develop effective countermeasures and interventions – including vaccines and therapeutics – that will either eliminate the virus or reduce the dangers to a degree that can be lived be with normally, as we do with many other seasonal diseases.
I hope you will find this guide helpful in your efforts to re-open your gym. We will continue to collect information and provide it to you as it becomes available on this topic. If you have additional information you think would be useful, or spot a mistake, please let us know and we'll continue to update it.