It's been a long time coming, but we're happy to announce our native mobile app is now available on both the iPhone and Android app stores. It's been quietly released for close to a month, while we gathered feedback and fixed various issues that came out in specific configurations.
What the app provides
The app is a natural companion to our web based member portal. While the member portal is optimized for mobile devices as well, the native apps provide a more fluid mobile-first experience to the various functionalities we provide for members:
Mobile check-in and attendance / progress tracking
Billing management and resolution
Class booking and cancelation
Purchasing new memberships
Updating personal info
Managing family accounts
Access to exclusive member content
Document signature
A digital membership card – with barcode / QR check-in
2-way communication with the gym
Push Notifications
You now have access to push notifications as a communication channel with your members who installed the app. Push notifications are free, instant and always delivered as there's no middle-man like carriers and spam detection.
Members who installed the app will have a section on their profile indicating which devices they have the app installed on. You will be able to send them push notifications from the "Messaging" tab in their profile.
Similarly, from the mass messaging feature in the "Marketing" section, you'll be able to send a bulk message as a push notification. Push notifications are also coming to our marketing automations feature (more on that below).
Branded mobile apps
The members app currently has the Gymdesk branding. We are working on adding a branded version, which will have an additional cost. Branded apps will be completely whitelabeled with your gym name and logo, and would need to be released and updated separately.
Coming Soon: Overhauled marketing automations
We've been working on overhauling our marketing automations for the last couple of months, heavily expanding the functionality and options available.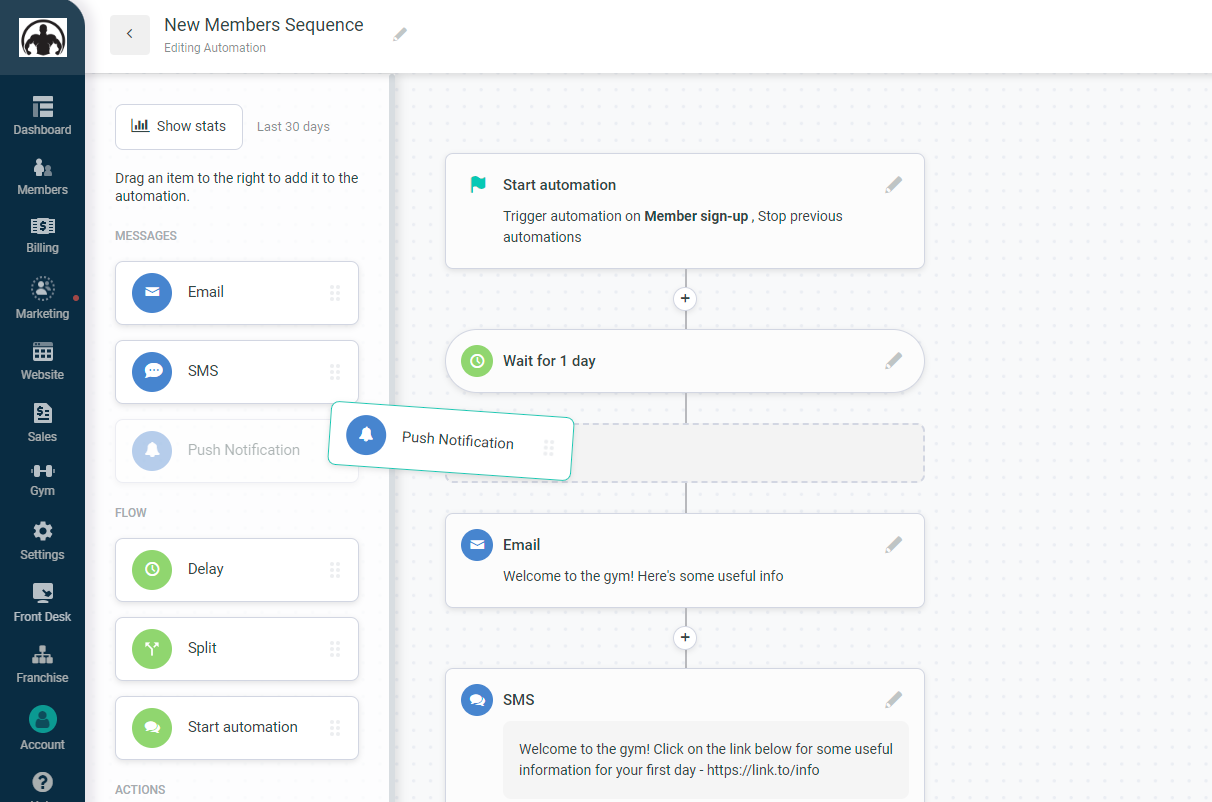 This includes options such as:
A new automation builder UI, with drag-and-drop functionality
Delays specified in minutes / hours / days / weeks / months between actions
Additional actions, including updating a contact's type and status, adding or removing a tag, starting new automations, and more
Conditional splits – Move contacts to different parts of the automation (or end the automation) based on various conditions, such as booking a class, signing up for a trial / membership, having a specific tag, and more
Automation statistics for each step in the automation – how many reached a certain step, how many messages were sent, opened and unsubscribed, etc
A new message type – Push Notifications – which relates to the above released mobile app.
The ability to pause / reactivate specific automations in your account
This feature is already in the quality assurance and testing phase, and we hope to have it publicly available in the next couple of weeks. Stay tuned!