Happy holidays everyone! Hope you had a good weekend – we have a big feature announcement for you to start the week off with.
Reimagining our lead management / CRM features
We've been putting a lot of work in this past year improving our member management features, promotion management, reporting options, point-of-sale features – but one aspect we have not touched in a long time is our CRM / lead management features.
With this update, we are taking our lead management to the next level, bringing it on par with our other features that you love, and upgrading leads to the same level as members and visitors. Aside from visual and user flow improvements, this means that you can use almost all the member features with leads as well –
You can send documents / waivers to leads to sign online (no log-in required)
You can book leads through your booking features by selecting their name from a dropdown, like you can with regular members
You can check leads in when they show up to their booking (And they can check-in themselves if you have a self service kiosk set up)
Leads Management Screen
The leads management screen has been updated visually and now shows the most recent message from the lead. Yes, you can now have 2-way communication with leads and members with-in the system, through Email and text – more on that later.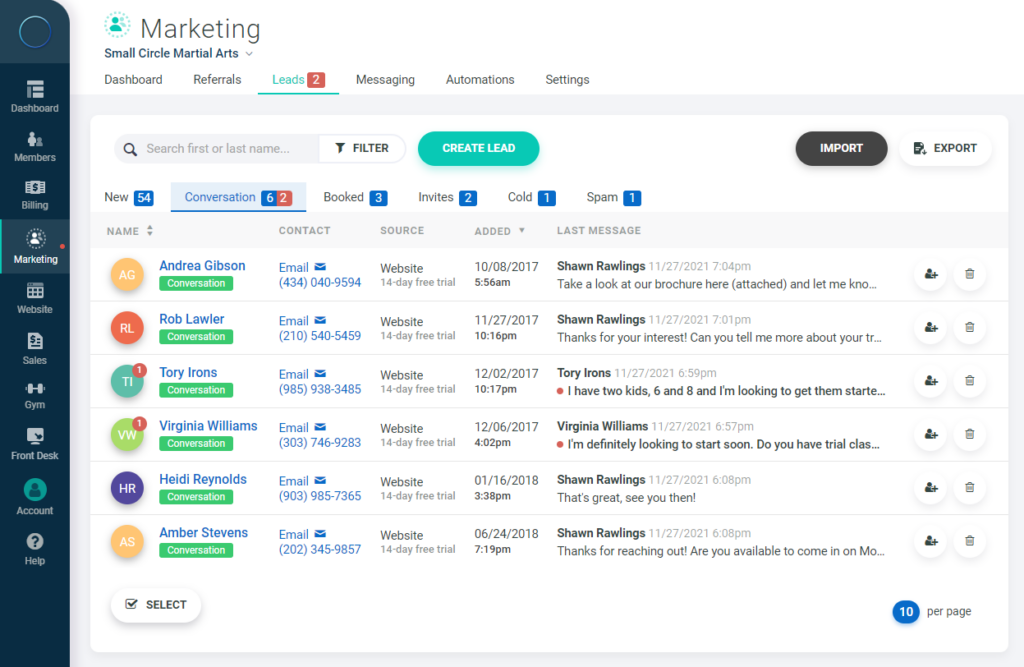 Unread messages have indicators on the leads list, in the marketing navigation menu and in the main menu (see the red dot on the "Marketing" tab on the left in the screenshot above). So you should always know when there are unread messages in the system.
Leads can now have multiple statuses –
New – Newly created leads start here
Conversation – When a staff member responds to a lead, or a lead response to one of our automated messages they move to this status
Booked – When a lead is booked for a session they move to this status
Contact Later – If a lead is not ready to get started immediately, you can mark them as "Contact later" and get back at a future date
Cold – Leads that are not responding or following up
Spam – You can now see the incoming leads we automatically mark as spam, and clear them out in bulk.
The mass operation functionality has also been added to the leads management screen – you can delete leads in bulk, change their status, mark their messages as read, bulk message them and more.
Revamped Lead Profile
The lead profile itself has been redone from the ground up. It now looks like a variation of the member profile – quick actions and basic details on the left, and a main section on the right.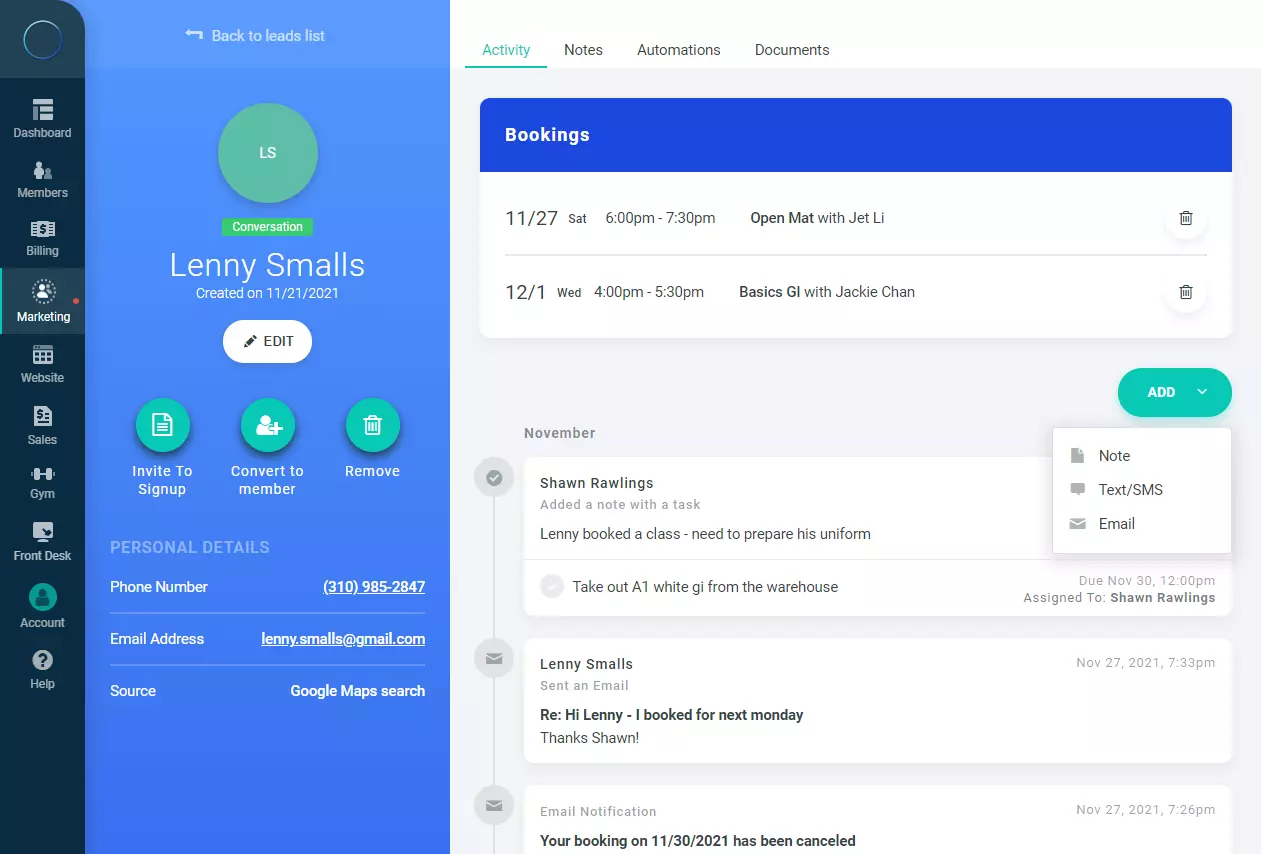 The profile shows an activity feed by default – it shows all messages sent by your staff and automatically from our software, and incoming messages from the lead (both Email and text), notes, tasks and bookings for the lead.
From this screen you send Email or text messages, add new notes and create associated tasks. Tasks replace the previous "Follow up" date we had for note – you can create any type of task, assign it to a staff member and schedule a date and time it would be due on. More on tasks later.
The "Notes" tab shows just the notes and associated tasks.
The "Automations" tab shows active automations for the lead and allows you to manually activate automations for them.
The "Documents" tab allows you to send documents to the lead to read or sign. Those would be available online with a unique link – no log-in required.
Two-way communication
One of the biggest additions in this update is 2 way communication with leads and members. You can send Email and text messages through the member and lead profiles, and when they respond the response ends back in their profile.
This replaces the text responses that existed previously only for mass texts, and now works with Email as well. For each Email / text from a member or lead, you will receive an Email notification and see the previously mentioned indicator for unread messages in your account.
Another neat feature is that you can reply directly to the notification Email, even if it's notifying you of a new text message, and member will receive your reply as if you sent it through the system.
This same functionality exists on the member profile as well, in the "Messaging" tab that replaces the previous "Message Log" tab.
Note – if you prefer to still receive Email responses to your own Email address instead of it being sent to the member / lead profile, you can turn off this feature in the Email settings, where it says "Direct replies to member / lead profile".
Invite to sign-up
When you click on the "Invite to sign-up" button on the lead profile (or use the "Invite" feature from the members list), you can now customize the invitation message based on your existing template, choose whether to send it over Email or text, pick which sign-up form to use (you can now create multiple sign-up forms – more on that later), and even select a specific membership for them to have on the sign-up form.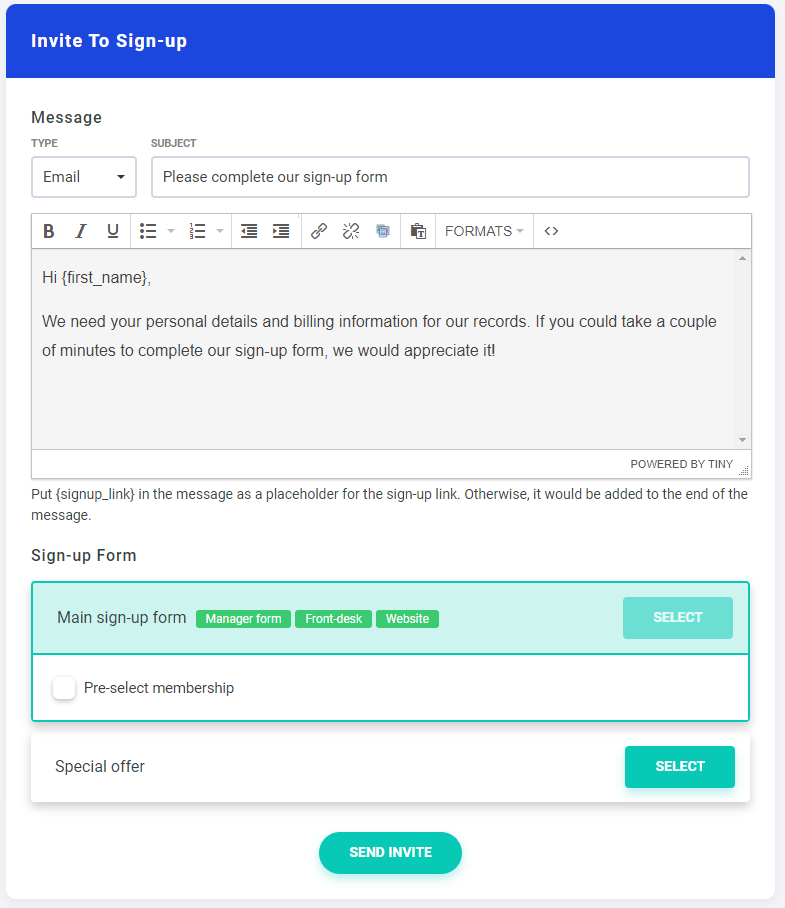 This should allow you to craft the sign-up experience for each lead depending on their interests and your previous conversation with them.
Better Source Attribution For Leads
You can now select the source attribution for leads in each lead capture form –

If you are using our forms on a landing page or in an ad campaign or in any other way, you can specify the source to attribute those leads to instead of the default "Website" that was previously shown for the lead capture forms. If you pick the "Other" option in the dropdown, you can enter a source manually to match your needs.
Customizing Sign-up Forms
To be able to better customize the onboarding experience for new members, you can now create additional sign-up forms that you can use for different purposes, such as special promotions, Google and Facebook ads, different programs, different age-groups and much more. You can even customize the sign-up separately for the manager view, front-desk and website sign-up.
To make that process easier, we've added a visual sign-up form editor, seen in the screenshot above. You can hide sections, make fields required or not, and even assign different custom member fields to different forms. You can select which memberships are shown on each form, and which documents are asked to sign.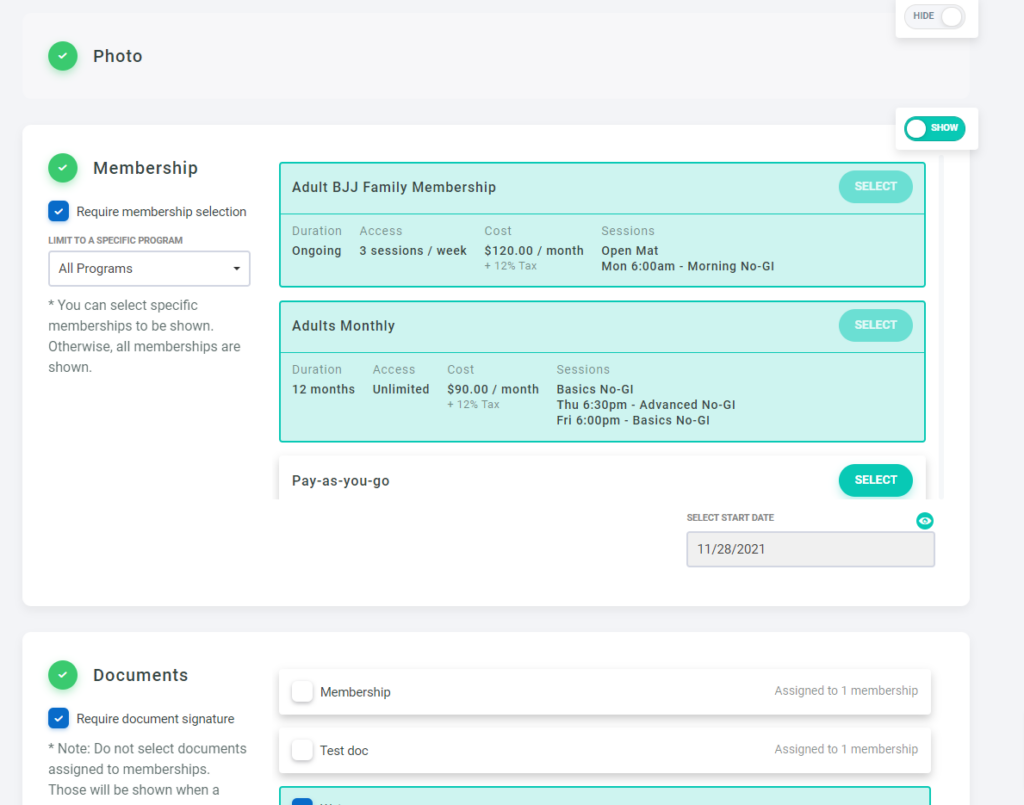 A small addition here is the ability to redirect the form to a your own link after a successful sign-up. If you're using the form with your existing website or with a landing page, and prefer to control the rest of the flow for the member, you can redirect them to a page of your choice.
You can add and edit sign-up forms by going to "Members" -> "Settings" and scrolling to the "Sign-up Forms" section.
You can then choose which sign-up form to send to a member when you invite them to sign-up, allowing you to customize their experience with more direct control.
Direct Payment Integration on the Sign-up Form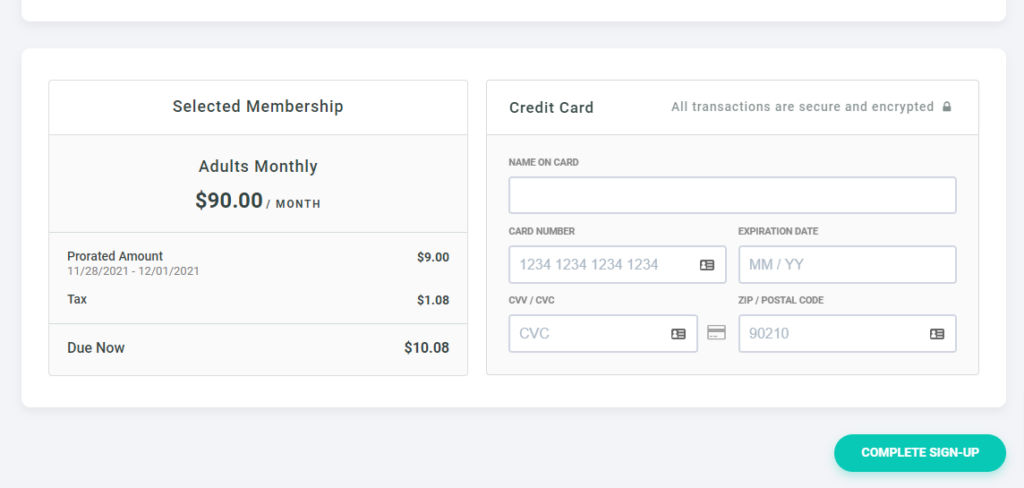 By popular request, we've moved the payment step to be on the same page as the sign-up form, and if payment is required, a member would not be able to sign-up without successfully entering payment information. The exact amount they would be charged is shown next to the payment form.
Staff Task List
You and your staff can now manage a task list for day-to-day activities, such as following up with leads, setting up memberships and payments for members and more.
The task list can be found in every user account by going to "Account" -> "Tasks". Account owners and staff members with the "Manage Tasks" permission can assign tasks to other staff members.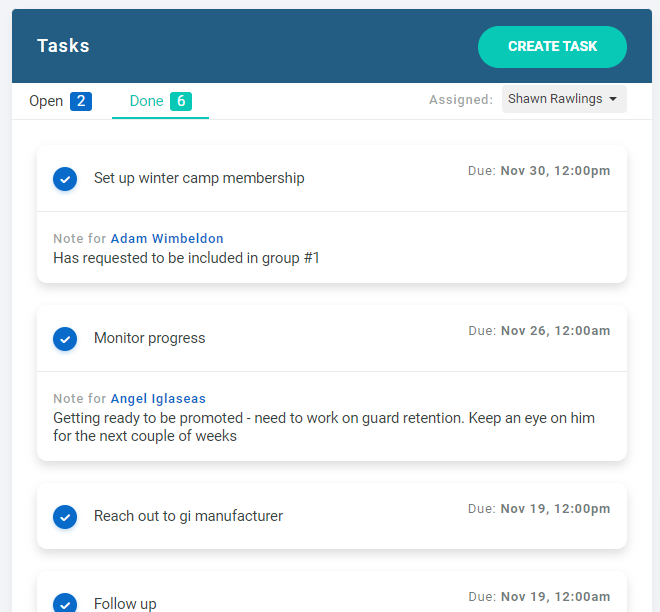 Tasks can also be associated with specific members / leads by adding them while writing a note on the member or lead profile.
Open tasks will show up on the dashboard for each user –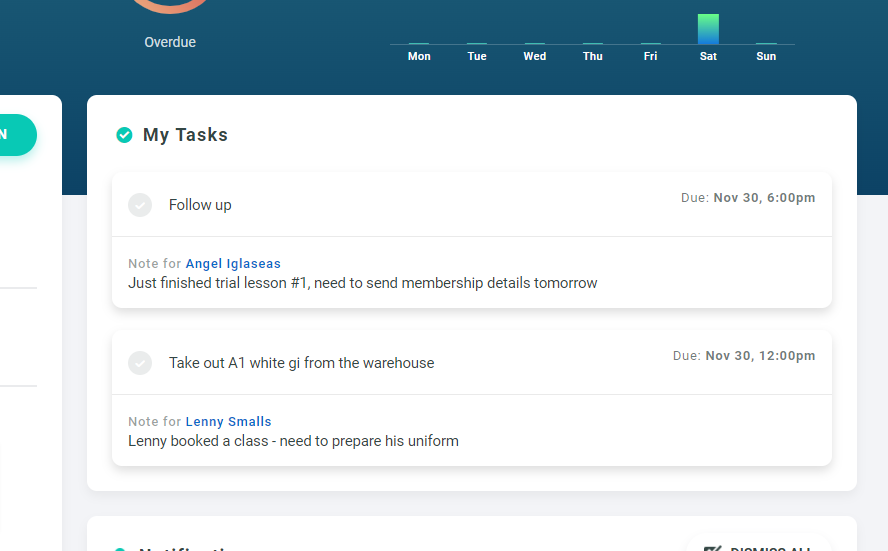 Overdue tasks will show an indicator in the main menu, on the "Account" tab.
Merge Duplicate Contacts
In order to make the CRM aspect of our software more effective, we've worked on reducing the potential for duplicate contacts in your account. Going forward, if someone fills out one of your forms, or books a session using an Email or phone number that belongs to one of your existing members or leads, their message / booking will be associated with that contact instead of creating a new lead.
To manage existing duplicates and potential future duplicates (mistyped Email / phones or for any other reason), we've added a process to merge duplicate contacts. To use it, go to "Members" -> "Settings" and click on the "Merge Duplicates" in the top right of the screen.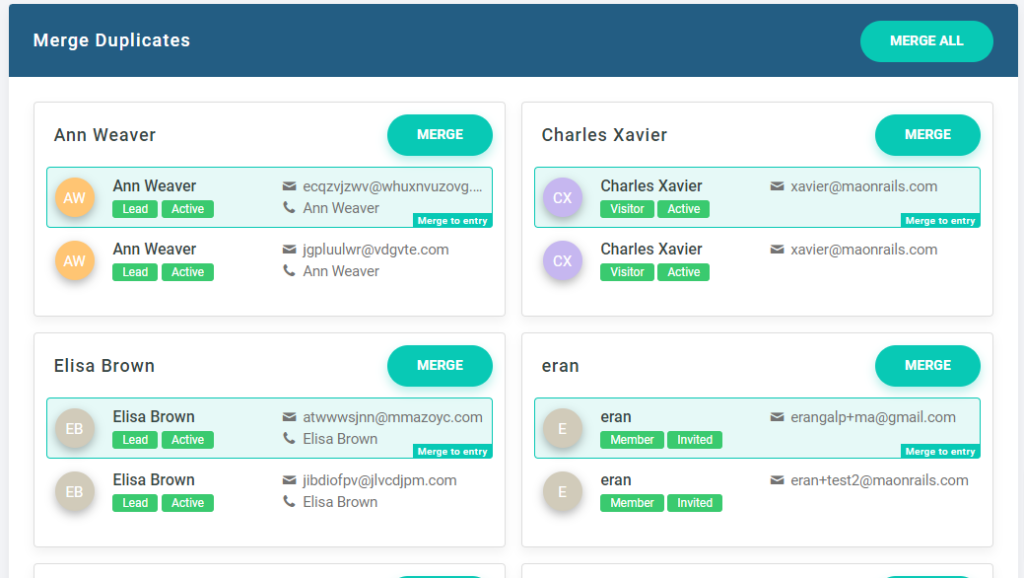 You can merge duplicate contacts by picking the entry to merge the rest into – all payments, memberships, attendance, documents, etc will be merged from the duplicates into the selected contact. You can also click on the "Merge All" button at the top right to merge all the contacts on screen to their selected entry.
Additional Email Domain Set Up
Those of you who have set up your own domain to use with our Email sending will need to perform additional set up for their custom domain to be used with our 2-way communication feature mentioned above.
For us to be able to receive member or lead Email replies and add those replies to their profile, we need the reply address on outbound Emails to be an address controlled by us. To keep using your custom domains with this feature, you will need to set up forwarding from your address to a special Email address identifying your account with us.
You will find more details in the Emails settings screen, by clicking on the "Set up Email Domain" button there. Let us know if you need any help with that!
Other enhancements and changes
We included a couple of minor enhancements in this update:
We've redesigned the proration interaction when adding memberships to members, to try and make it clearer and more straightforward.
We've added input placeholder to documents – you can now capture text input from people signing your documents inside of the document. You'll see those in the placeholder list under the document editor.
We've separated the Email notification setting for receipts and overdue payments – so if you'd like to send one but not the other, you can now do so.
Added an option to change the default sorting of the member list (and it now includes the ability to sort by first name).
During the update we had to upgrade the Square payment form to its current version, which gives us less control over its appearance and does not support iOS 9 and older.
Updates from our blog
We've been growing our writing team and working on creating content for gym owners and instructors, on business related topics, training, instruction, sports science and more. We will soon be reworking our blog into a library format with different categories grouping those articles so its easy to find. Here are some highlights from the past month:
We're also working on launching a podcast where we talk to people in the fitness / martial arts industry – from gym owners to equipment brands, notable instructors and more. Make sure to subscribe on the blog if you'd like to receive more frequent updates.