According to predictions, the Pilates studio software market will experience a significant growth rate at a global level before the year 2031.
Current trends also show that the popularity of Pilates studios is steadily increasing, according to a report by markwideresearch.com. It implies that your competition is growing. Whether you run a small studio or manage a large chain, you must find a way to stay up with demand and seize the lead.
Pilates studio management software is the best way to enhance the customer experience, manage the studio's daily admin tasks, reduce no-shows, and increase revenue. But with so many options available, finding the one worth your money takes much work.
In this article, we will explore the top 5 Pilates studio software currently leading the market. These tools will assist you in streamlining operations, scheduling classes, tracking funds, and growing your business.
Our Standards for Choosing the Best Pilates Studio Software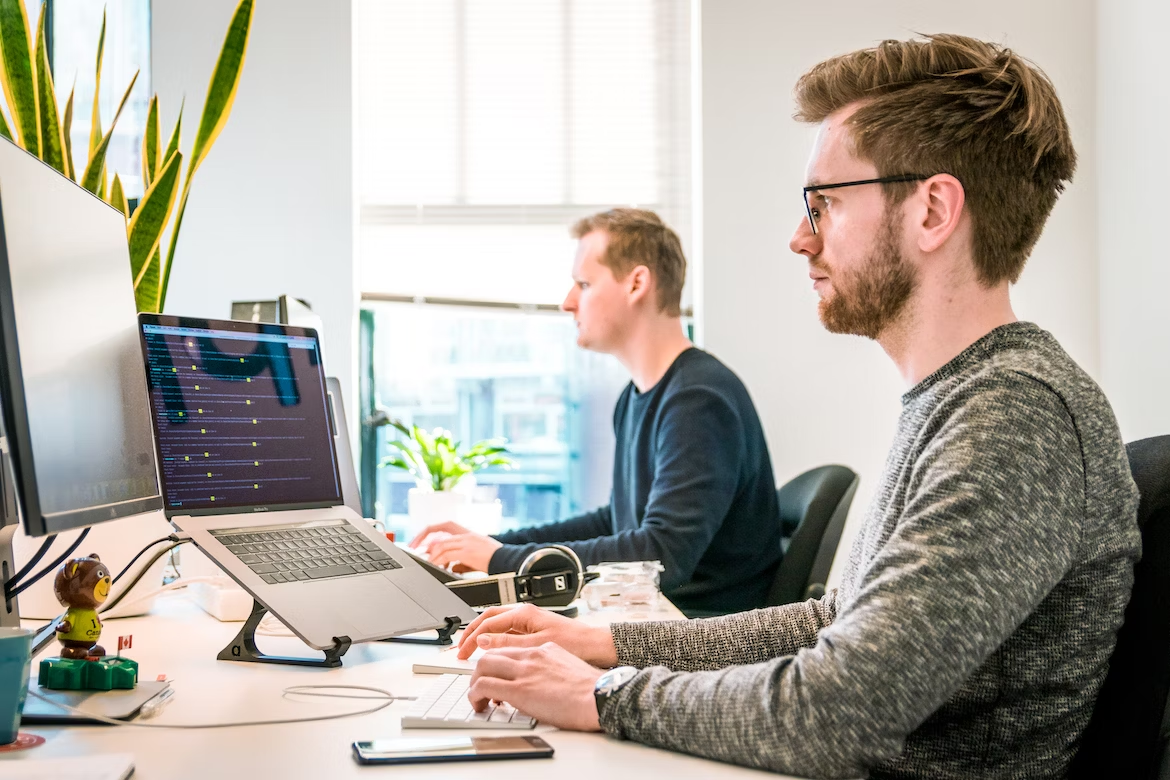 Image source: Unsplash
When selecting the best Pilates studio software, we considered the following factors.
Features & Functionality
The software should handle membership and billing management, attendance tracking, and class scheduling tasks. It should also include features like a POS system and advanced reporting.
User-friendliness
The member management software must prioritize user-friendliness and catering to studio staff and clients.
It entails implementing a straightforward and intuitive interface that allows easy navigation and convenient access to all features.
It should also be compatible with desktop computers, tablets, and smartphones.
Cost-effectiveness
When selecting Pilates studio software, it is crucial to seek a solution that provides exceptional value for its price. While exploring options with a higher-end price point, we focused on premium products that guarantee an outstanding customer experience.
Customer Support
The software provider must prioritize providing first-rate customer service, ensuring a professional and helpful support crew is constantly on hand through live chat, email, or phone to assist with any problems or questions that may occur.
Pricing
Choosing software that offers a fair pricing structure that is transparent and free of any additional fees or charges is critical.
The software should offer a free plan or trial, enabling customers to fully evaluate its features before registering for a paid plan.
Integration with third-party tools
Seamless integration with third-party tools like accounting software, email marketing tools, and social media platforms is vital.
This integration is pivotal in streamlining the studio's operations, enhancing efficiency, and enabling smooth collaboration between different systems.
Current User Reviews
It is crucial to consider current user reviews of the software to gain insights into the experiences of other studios. By examining user reviews, you can gather valuable information about how the software has performed in real-world scenarios.
When you consider these factors, you can select Pilates studio software that meets your needs and help you boost the efficiency of your wellness businesses.
The Best Pilates Studio Management Software
Based on the abovementioned criteria, we have selected the top five Pilates studio software options well-suited for effectively managing your business.
Gymdesk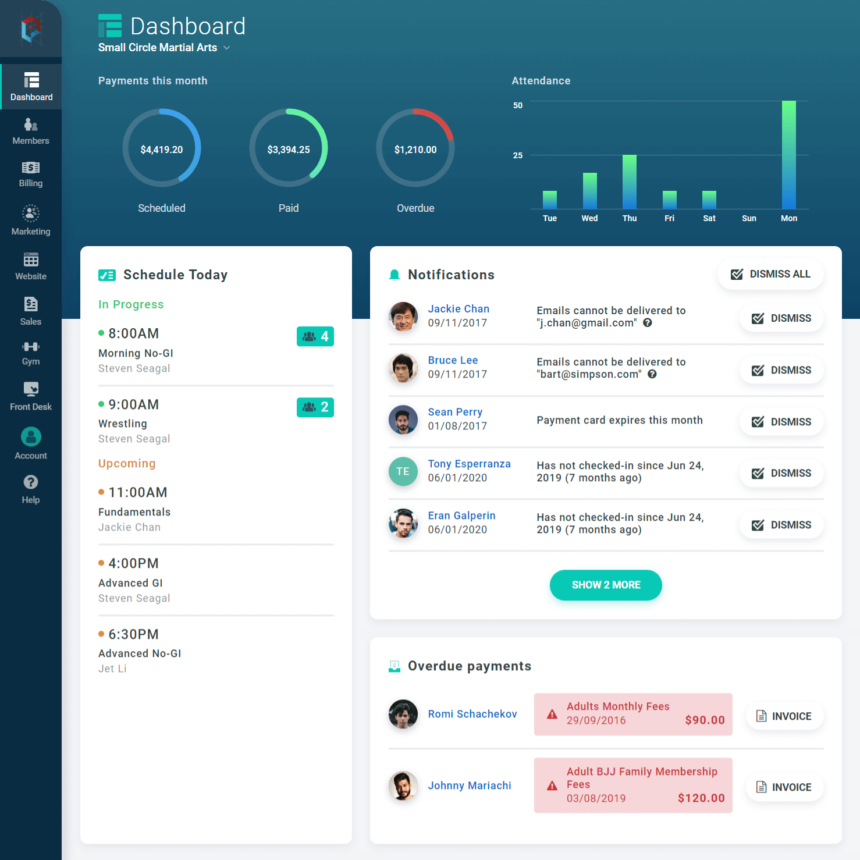 Gymdesk is our all-in-one gym management software that caters to martial arts schools, yoga studios, pilates studios and similar businesses in the fitness industry.
At Gymdesk, we continuously refine and enhance our product by employing a user-feedback loop and extensive inside knowledge about gym operations.
We provide membership and billing management tools, attendance tracking, a POS system, and powerful marketing features for promoting your business.
If you want to get serious about managing or growing your Pilates studio, switch to Gymdesk today.
User rating
Capterra rated Gymdesk 4.8 out of 5 based on 105 user reviews.
Features list
What makes this tool unique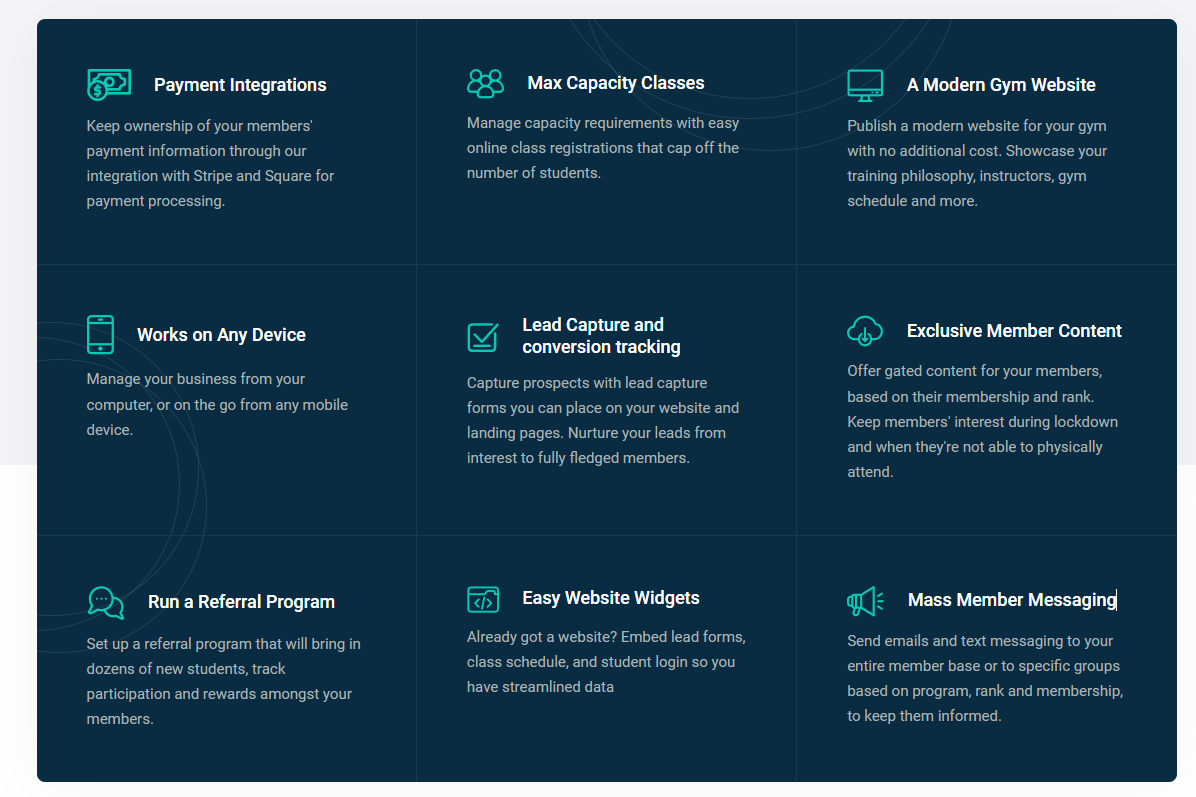 Gymdesk is a premium gym management software that differentiates itself in the market with the incredible value it provides for the price.
It stands out due to comprehensive features, customization options, integrated payment processing, member engagement tools, analytics capabilities, and excellent customer support.
These unique qualities make it a first choice for Pilates studios looking for a robust, tailored software solution.
Integrations
Gymdesk goes the extra mile to streamline your operations and enhance efficiency by offering seamless integrations with a wide range of third-party tools.
These integrations include popular platforms such as Microsoft Excel, WordPress, Google Analytics 360, Wix, Stripe, Zapier, Squarespace, Active Campaign, Authorize.Net, Mailgun, and Kisi.
Customer support
If you need help, you can use one of the following channels:
Email support
Live chat support
Pricing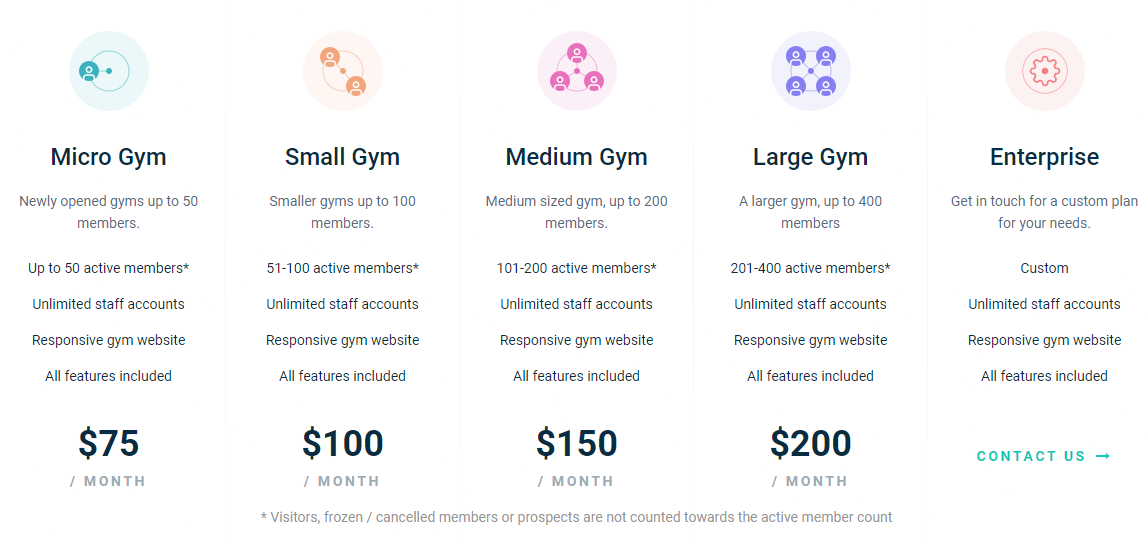 With Gymdesk, you can start a 30-day free trial or choose one of our paid plans:
Micro Gym for up to 50 active members for $75 a month
Small Gym for up to 100 active members for $100 a month
Medium Gym for up to 200 active members for $150 a month
Large Gym for up to 400 active members for $200 a month
Enterprise – custom plan for your needs with custom pricing.
Pros
World-class booking software
All-inclusive management platform
Easy-to-use interface
Advanced skills tracking
Customizable workout plans
Assessing personal trainers
Online and mobile platform
Marketing and communication tools
Excellent customer support
Cons
Take the first step towards success and start your free trial now!
vcita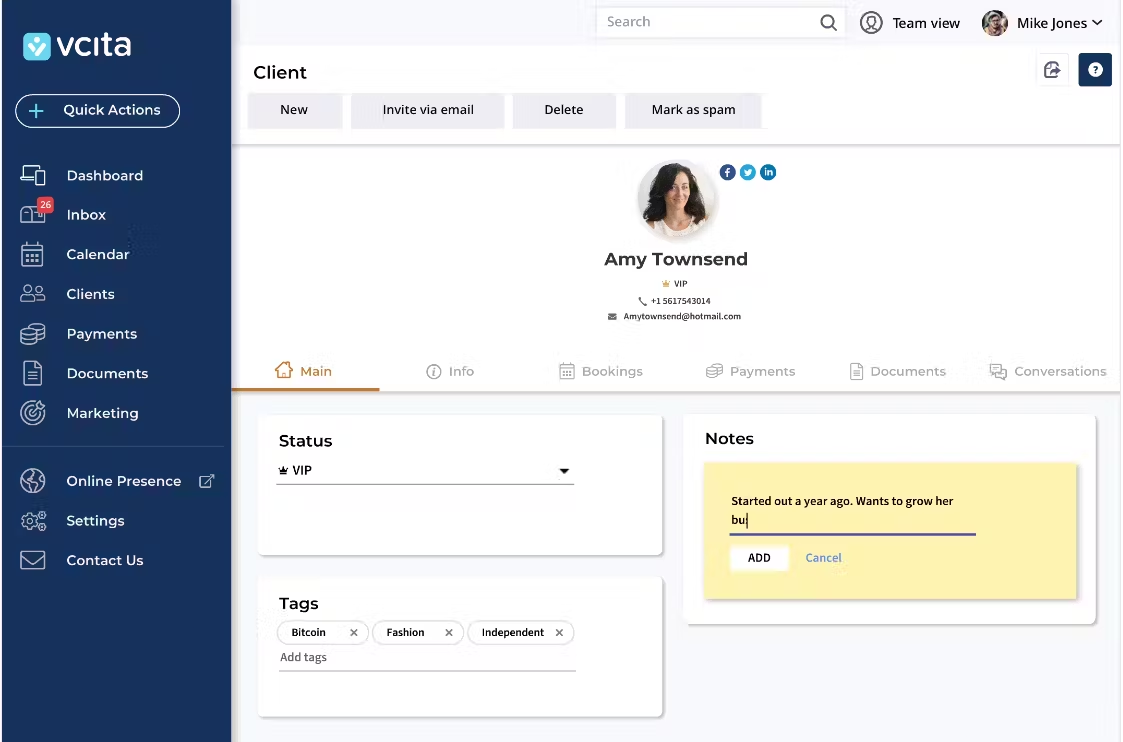 Image source: Capterra
vcita is a small business management app you can use as a convenient solution for pilates studio management. It streamlines your business administration helping you improve client engagement and save valuable time.
With vcita, you gain a comprehensive 360-degree view of customer communications across all devices, enabling effortless organization, tracking, and management of client conversations.
You can efficiently navigate past messages, appointments, and notes, gaining valuable insights to provide personalized service.
vcita simplifies accepting online payments by offering a secure and user-friendly solution that enables you to receive credit card and PayPal payments from any device.
This feature empowers your studio to handle transactions easily while providing a seamless experience for your clients.
User rating
GetApp rated vcita 4.5 out of 5 based on 249 user reviews.
Features list
Client management
Client portal
Payment collection
Scheduling and calendar management
Marketing tools
Lead management
What makes this tool unique
With vcita, you can streamline your operations by utilizing its features such as document sharing, invoicing, payment processing, client information storage, and class management through a calendar.
Integrations
vcita integrates with various tools like PayPal, Stripe, Microsoft Excel, Zoom Meetings, Google Analytics 360, Google Calendar, and Zapier.
Customer support
vcita offers several customer support options, including email and live chat support and a help center with a knowledge base.
Paid plans come with phone support during business hours. Users can also access the community forum to ask questions, share tips, and connect with other users.
Pricing
vcita offers three pricing plans:
Essentials with automated billing for $24 a month
Business with email and SMS marketing campaigns for $49 a month
Platinum with Zapier integration for $83 a month
Pros
It allows you to track all your documentation and communication in one place
Appointment management works well
It allows for payment processing and tracking of income
Cons
The mobile app sometimes crashes
vcita doesn't provide tutorials to help with procedures and features of the program that are used less frequently
Gymcatch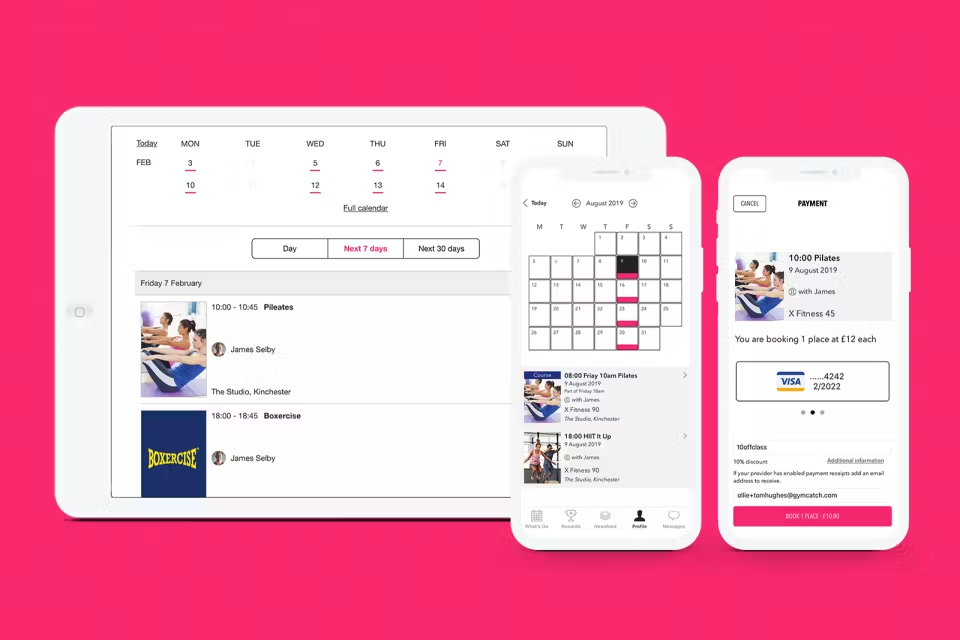 Image source: Capterra
Gymcatch, a fitness studio management software, helps Pilates studio owners save time, increase revenue, and provide exceptional customer service.
Gymcatch offers a comprehensive suite of features to manage a fitness business, including scheduling, membership management, reporting, payment processing, waitlists, discount codes, website integrations, mobile apps, and more.
User rating
GetApp rated Gymcatch 4.9 out of 5 based on 195 user reviews.
Features list
Membership management
Payments tracking
Attendance tracking
Automated scheduling
Multiple locations bookings
Calendar sync and reminders
Automated waitlist
iOS and Android apps
Virtual pilates classes
What makes this tool unique
Gymcatch allows you to create and distribute discount codes to your clients through various marketing channels, including email, social media, and other digital platforms.
Integrations
Gymcatch offers several integrations with third-party tools like Stripe, PayPal, Quickbooks, Mailchimp, Facebook, Instagram, and Squarespace.
Customer support
Gymcatch provides several customer support options:
Help center
Email support
Phone support
Chat support
Pricing
Gymcatch offers a straightforward pricing structure, starting at a flat rate of $10 per month.
Although Gymcatch does not provide a free version of its software, you can use it as a free Pilates studio software during a one-month trial to explore all features.
Pros
Easily links with Zoom
Straightforward to use and relatively intuitive
Saves much time on administrative operations
Cons
You can't delete a class
It doesn't provide the option to customize emails
LegitFit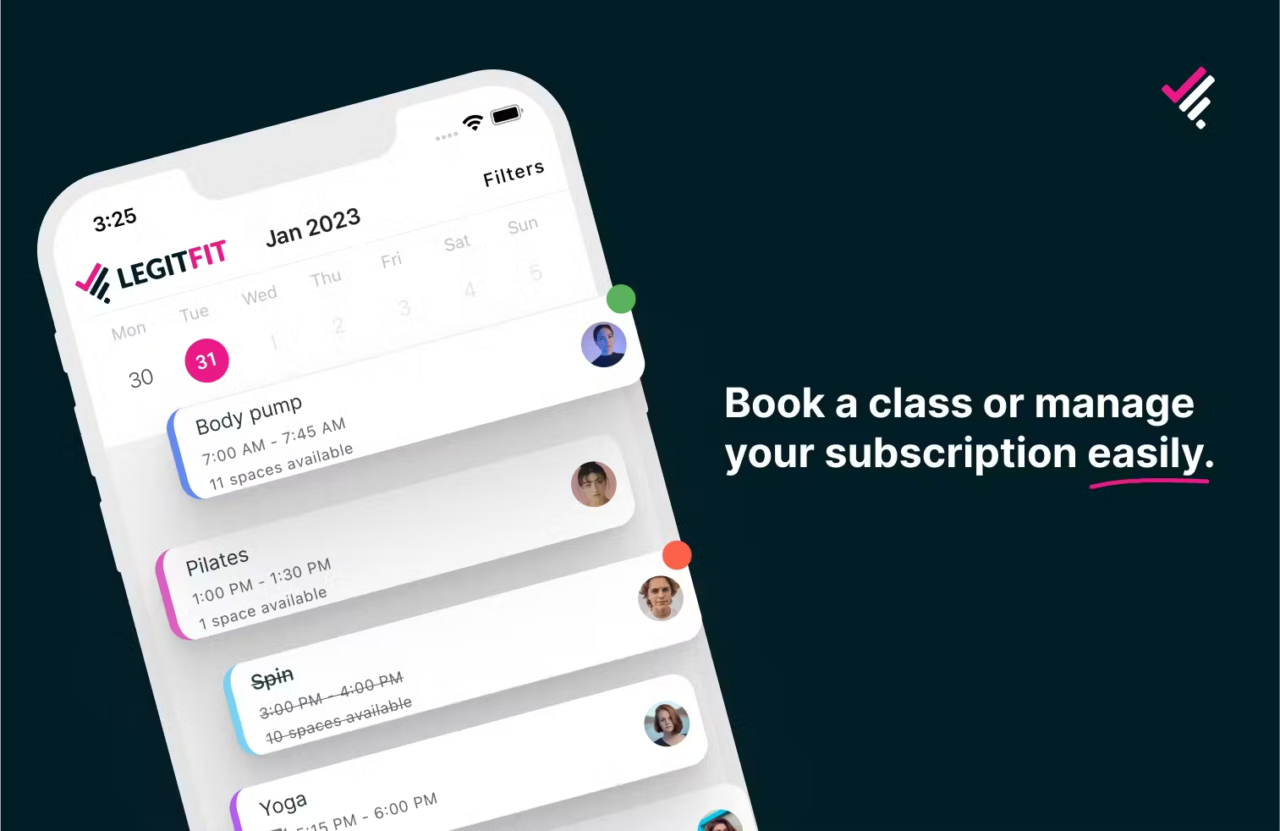 Image source: Capterra
With LegitFit, you can manage all essential business elements in one platform, including bookings, memberships, classes, and finances.
It helps you expand your fitness business and eliminate time-consuming tasks so you can concentrate on the most critical activities.
User rating
GetApp rated LegitFit 4.8 out of 5 based on 165 user reviews.
Features list
Member management
Payments management
Class booking and scheduling
Communication management
Comprehensive reports
Online classes
Mobile app
Building your own website
Social and website integration
What makes this tool unique
LegitFit assists the growth of your Pilates business by offering personalized consultations with their growth specialist.
Integrations
LegitFit integrates with third-party tools like Stripe, Wix, WordPress, Squarespace, and Zapier.
Customer support
LegitFit offers several customer support options, such as:
Email support
FAQ
Knowledge Base
Phone support
24/7 live rep
Chat support
Pricing
LegitFit offers a straightforward pricing structure, starting at a flat rate of €55 monthly. You must contact the vendor directly for a pricing quote tailored to your needs.
Pros
Performs well for pilates instructors working as sole proprietors and managing their online bookings
User-friendly, especially on a mobile device
Clients quickly get the hang of it
The timetable is easy to manage
Cons
Clients get reminders scheduled for different time zones than the time zone set for the studio
It doesn't allow for custom branding
Upper Hand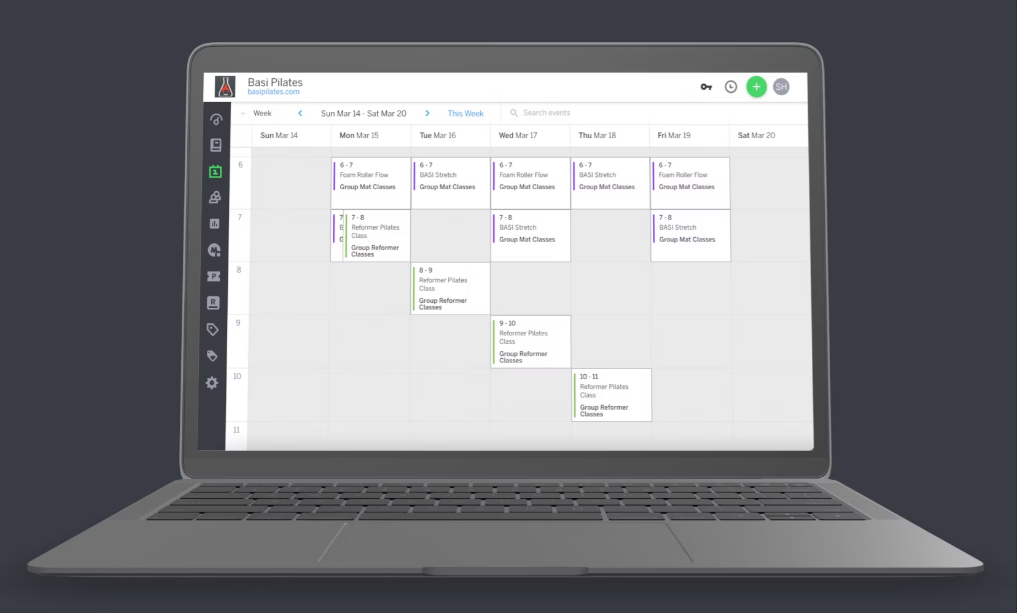 Image source: GetApp
Upper Hand is a fitness business management software. You can use it to boost memberships, retain existing clients and strengthen customer relationships in your Pilates studio.
It offers simplified client scheduling for private sessions or group lessons and marketing tools to keep your clients engaged. It also enables effortless registration for camps, clinics, and training programs.
You can manage and execute these activities through a mobile app, providing flexibility and accessibility from any location.
User rating
GetApp rated Upper Hand 4.1 out of 5 based on 107 user reviews.
Features list
Automated membership management system
Auto-renewal memberships
Payment processing
Automated instructor payrolls
Class scheduling
Staff management
Point of sale integration
Advanced analytics
Website and member app
What makes this tool unique
The Calendar is a centralized hub where your staff can efficiently manage scheduling and availability, seamlessly check in clients, access detailed information about upcoming sessions, and facilitate transactions.
Integrations
Upper Hand offers integrations with tools like Mailchimp, Constant Contact, Facebook, Twitter, and Square.
Customer support
Upper Hand offers various types of customer support, including:
Help center with articles and resources
Email support
Phone support during business hours
Live chat support
Pricing
Upper Hand offers one pricing plan that includes all the features, starting from $75 per month. It does not provide a free version or free trial.
Pros
The calendar view allows you to see and access sessions in the same tab
Allows to send automated marketing emails
Provides various features for tracking finances
Cons
There are many issues when editing contact information
The process of inviting clients is cumbersome
Now that we have thoroughly explored the best Pilates studio software, let's summarize everything we have discussed.
Conclusion: The Best Pilates Studio Software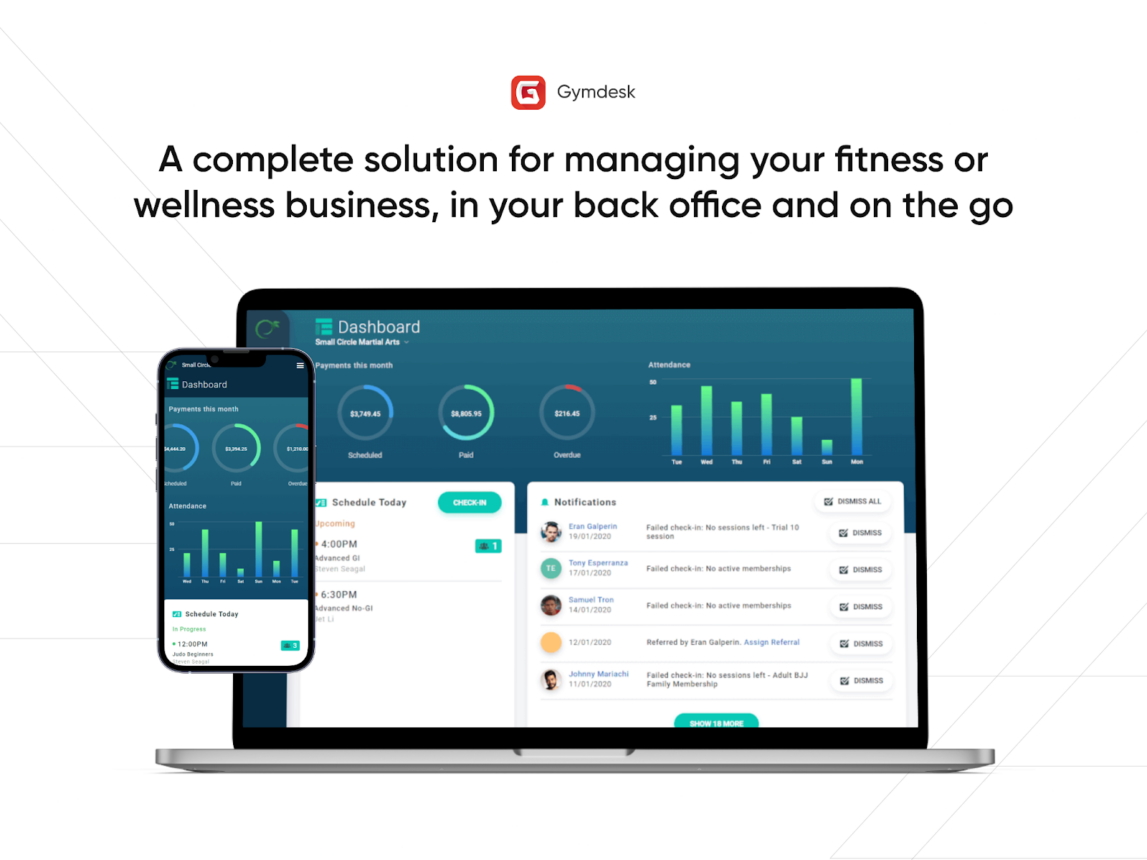 Choosing a solution that aligns with your Pilates business needs and requirements is crucial.
With the right Pilates studio software, you can streamline administrative tasks, reduce manual errors, and ultimately grow your business.
Gymdesk is the best option for pilates studio management because it can streamline operations, enhance client management, simplify online booking and attendance tracking, streamline payment processing, boost lead generation and provide valuable insights through reporting and analytics in one platform.
You can eliminate manual scheduling, send automated reminders to keep your clients informed and engaged, provide personalized and targeted services to your clients, and improve cash flow management.
Start a free trial to see why Pilates professionals choose our software.
FAQs About Pilates Studio Software
Is owning a Pilates studio profitable?
Owning a Pilates studio can be profitable, but it depends on several key factors, like the studio's location, operating expenses, pricing strategy, marketing efforts, and level of competition in the area.
By carefully managing these aspects and implementing practical business strategies, creating a profitable Pilates studio is possible.
However, studio owners must conduct thorough market research, develop a solid business plan, and continuously adapt to market demands to maximize profitability in this competitive industry.
If you're interested in starting a Pilates studio, we recommend checking out our guide for more information.
Why are Pilates studios so expensive?
Pilates studios can be expensive because they require specialized equipment that is costly to purchase and maintain. The equipment available at a Pilates studio is designed specifically for Pilates exercises, enhancing the client's experience.
Pilates instructors often undergo extensive training and certification programs, which adds to their expertise and qualifications.
Investing in highly skilled and knowledgeable teachers increases the overall value and quality of instruction provided at Pilates studios, justifying the higher price point.
Can I run a Pilates studio from home?
Yes, it is possible. Running a Pilates studio from home is a feasible option for many individuals.
However, it is crucial to check with your local government and homeowner's association to ensure that operating a business from your home is permitted and complies with any regulations or restrictions in your area. To learn more, read our guide on how to become a Pilates instructor.