Our feature update this month is focused on improved reporting for billing and accounting. Our goal with this update is to provide more actionable reporting, and make it easier to do accurate accounting and bookkeeping.
New Accounting Report
The account report was redone to more closely match a bookkeeping ledger. Each payment and refund appears as a separate entry. This include partial payments and refunds – those appear at the date they were made, instead of being rolled into the original payment.
With the change above, you can see exactly how much taxes / fees are included in each transaction and refund, regardless of how much was charged / refunded and when.

The report was also redone visually to show the movement of funds at a glance, as well as comparing it to the previous period. A revenue graph has been added, with the option to show revenue by month or by week, for those of you who process payments on a weekly basis.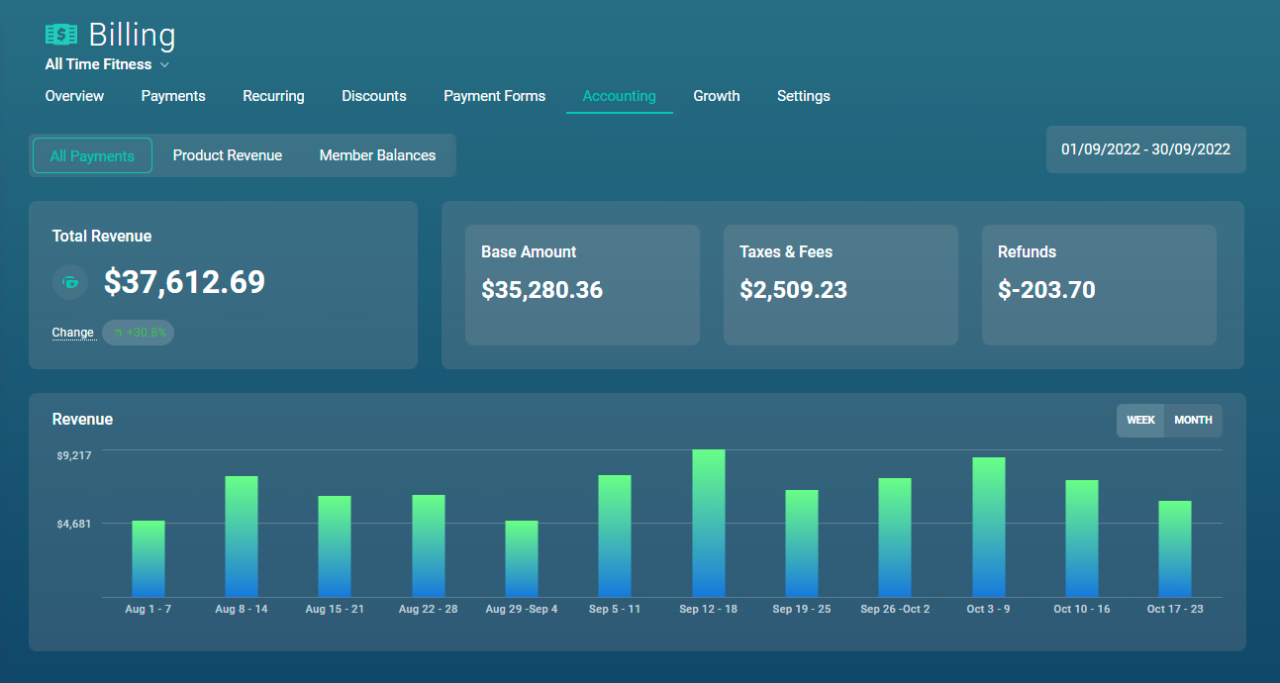 Enhanced Growth Report
Previously titled the "Summary" report, the revenue growth report has been redesigned as well to highlight the totals at a glance, as well as add easy access to the end of year projections.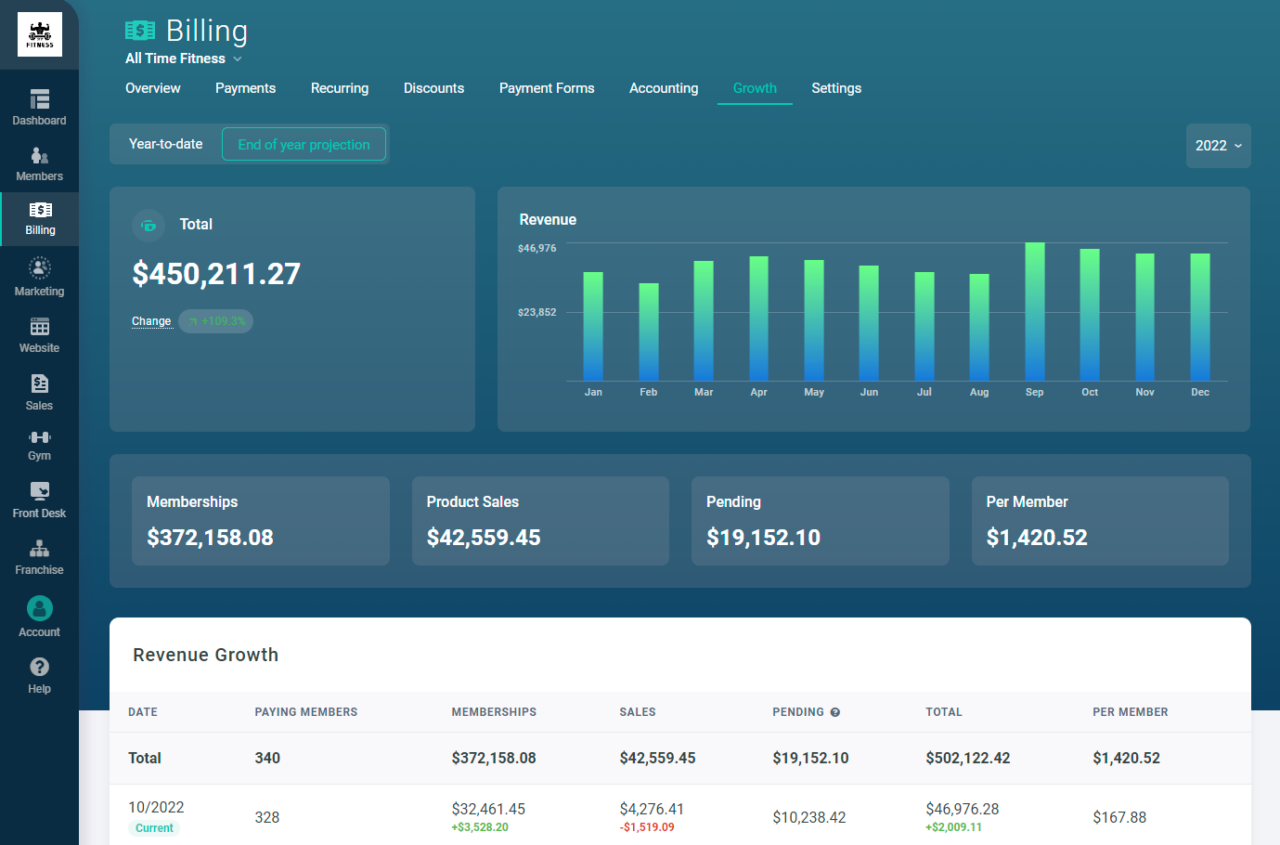 Both reports were also enhanced to show better on mobile devices.
Redesigned Invoice / Receipt
The design of the invoice / receipt screen has been refreshed as well, and most of the interactions have been simplified as popups on the same screen. The goal is to reduce the number of screens / clicks needed to perform actions such as charging a payment or marking a manual payment as paid.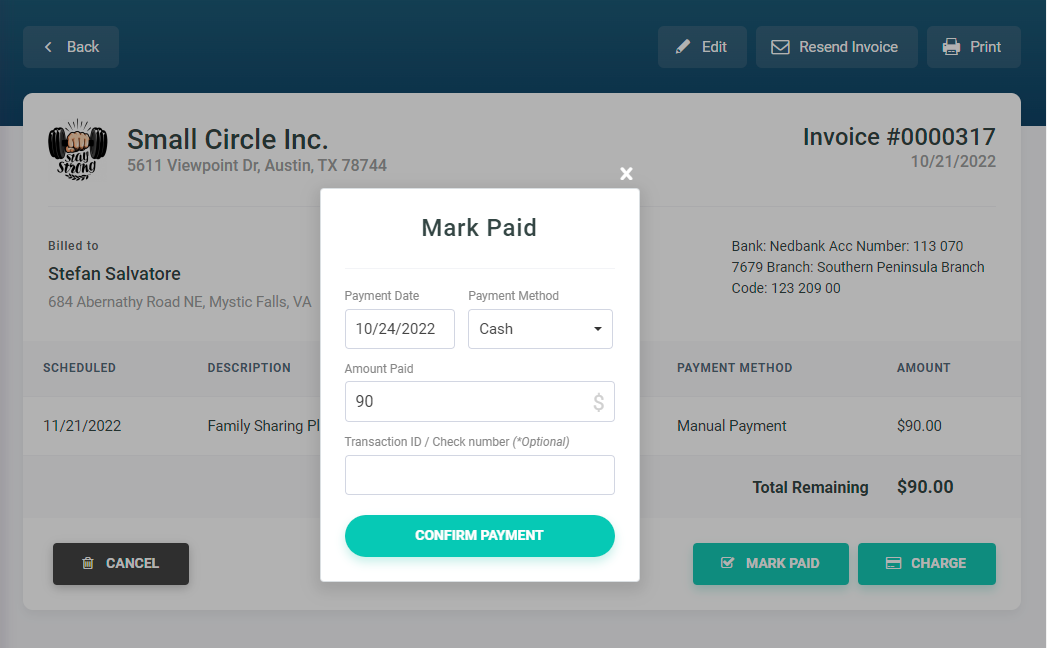 New billing issues indicators
We've added a new section on the dashboard that shows recurring payments that have been stopped while the membership is still active. There are several reasons why a recurring payment might be stopped – some intentional but mostly due to human error when making changes to the membership or scheduled payments.
To make it easy to spot those issues quickly, we now show a new section just under the regular notifications and above the overdue payments in the dashboard, that lists the currently stopped recurring payments –

We've also added more visibility to those payments in the "Recurring" tab of the "Billing" section, so you can reach it from there as well –

The dashboard notification links to the recurring payment list above.
Other enhancements / updates:
Added a "first name" placeholder to documents
You can now set "Gender" as a required field in the sign-up form
Added visual indicators to the check-in screen when a member cannot check-in. If possible, the reasons a member cannot access a session will be highlighted in red.

Added QR codes for sign-up forms – you can display those by clicking on the QR code icon next to each sign-up form in your members settings. You can then save it for putting on posters, pamphlets, etc, and it will link to that sign-up form.
Added an indicator for overdue payments in the multiple check-in feature
Made it easier to convert a lead to a member, by making all fields optional