If you're passionate about dancing and aspire to open a dance studio, you're in the right place.
Starting a dance studio may seem intimidating, but it can be a fulfilling and profitable business venture with the right plan.
In this guide, we will walk you through the crucial steps of launching your dance studio, from finding the perfect location to attracting and retaining students.
Whether you're an experienced dancer or a newcomer to the industry, this article will equip you with the knowledge and tools to kickstart your successful dance studio.
Let's lace up our dancing shoes and get started!
Step 1: Develop a Business Plan for Your Own Dance Studio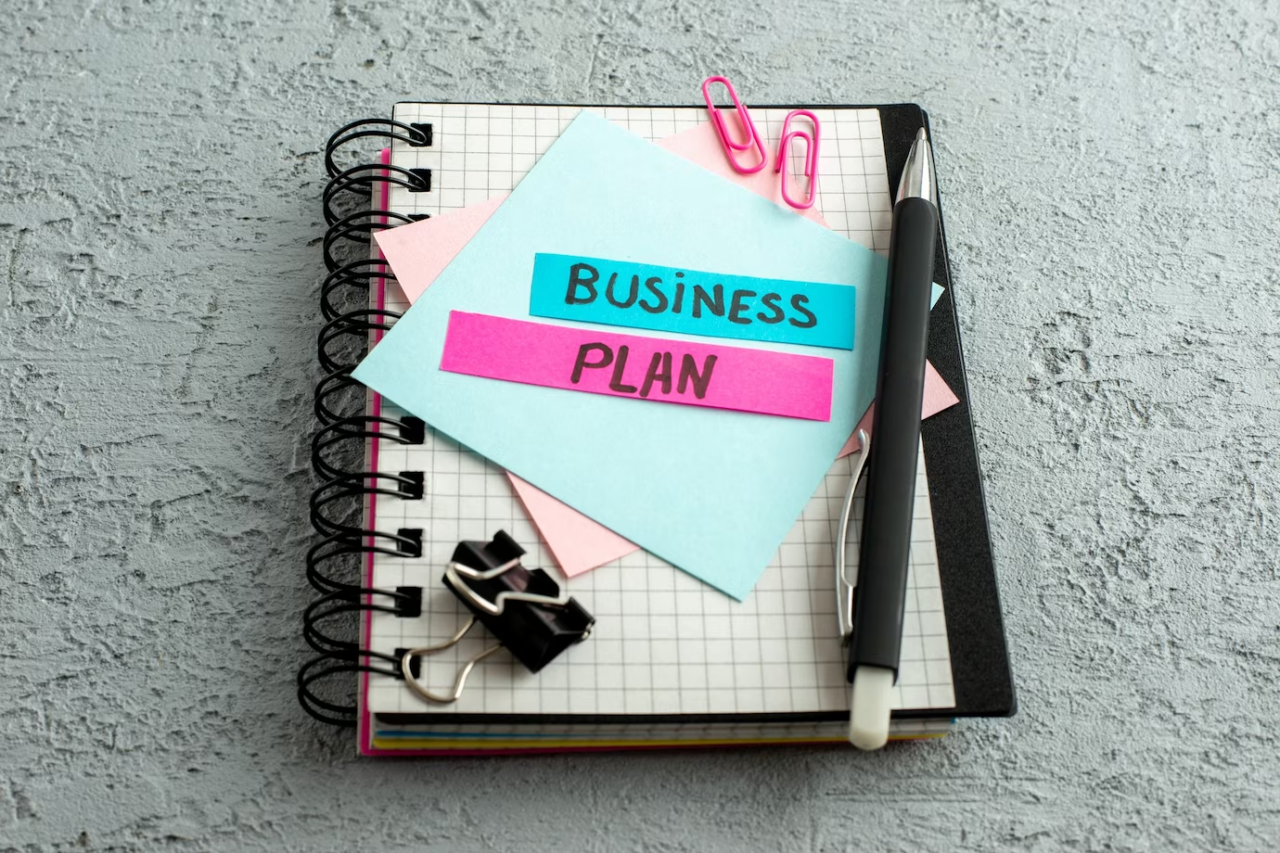 Image source: Freepik
Before diving into the venture of starting a dance studio, it's crucial to develop a solid business plan. To create one, you should focus on three essential areas.
Identify your target market
To identify your target audience, you'll need to conduct market research.
This process involves collecting and analyzing information about the dance industry, such as current trends and popular styles, and potential customers in the surrounding area, including their demographics and preferences.
It helps you tailor your marketing strategies and class offerings to meet their needs, ultimately leading to a thriving dance studio.
Make financial projections
After identifying your target market and analyzing your competition, it's time to make final projections for your dance studio. This step involves estimating the costs of starting and running your business and projecting your revenue.
In your financial planning, consider these elements:
Start-up costs like opening a business bank account, buying equipment, marketing expenses, and business licenses
Fixed costs, including rent, utilities, and insurance
Variable costs such as dance instructor salaries and music licensing fees
Revenue projections by estimating how many students you expect to enroll each month and how much you will charge for classes
Profit projections by calculating your expected profit margin
It's essential to be realistic when making these projections and have a contingency plan in case things don't go as expected.
Step 2: Choose a Location for Your Dance Studio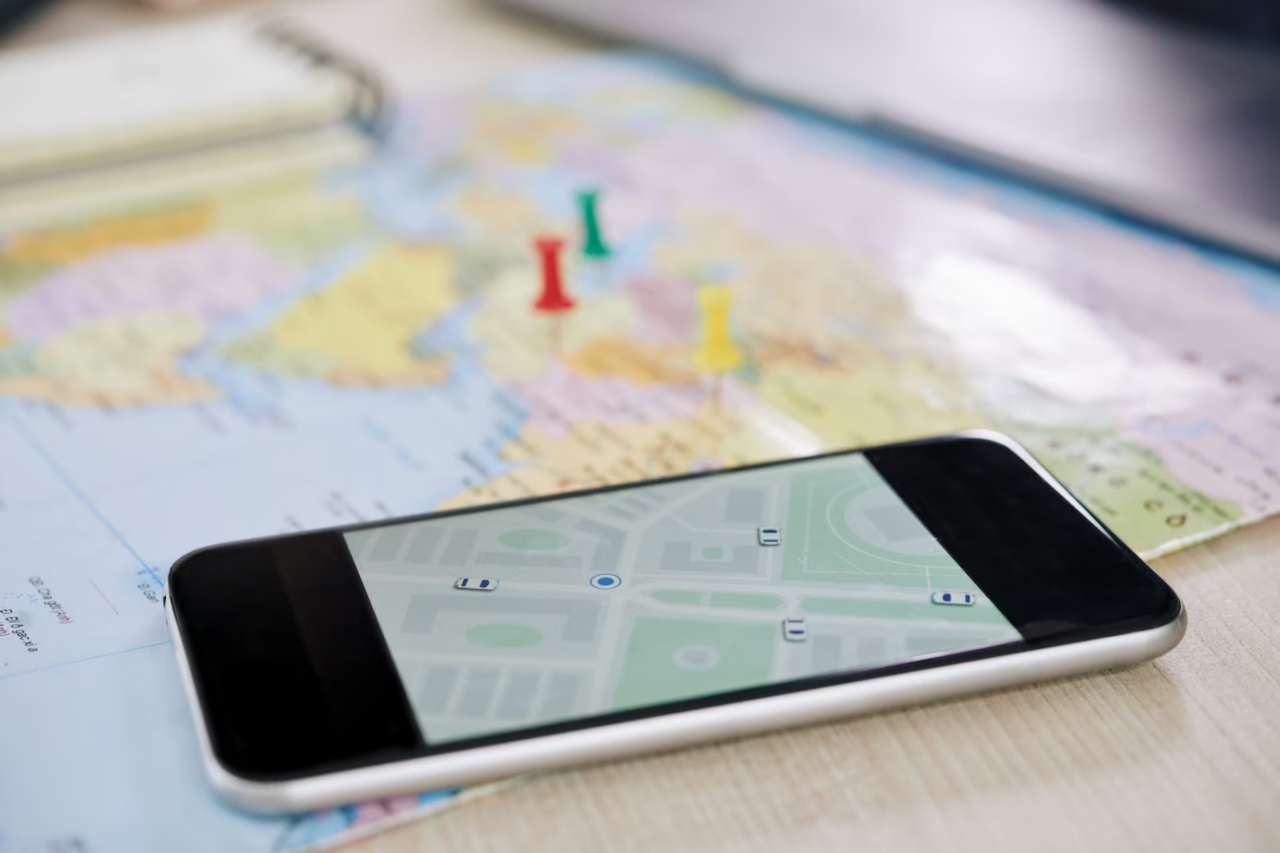 Image source: Freepik
Your dance studio's location can significantly impact its success, making it crucial to choose a studio space that meets the needs of your business and customers.
Assess accessibility and parking
When choosing a location for your dance studio, it's crucial to consider accessibility to your target market. Look for a space near public transportation, a major highway, or a busy commercial area.
You should also ensure ample parking space for your students and staff. Check whether street parking is available and determine whether your students must pay for it.
Analyze your competition
Research other dance studios in your area to understand what they offer, how they operate, and what makes them successful.
Here are a few valuable tips on conducting market analysis:
Find out what dance classes are available in your area
Learn about your competitors' pricing and compare it with what you plan to charge
Check if the independent dance instructors are experienced and qualified
Find out about the reputation of other studios in your area by reading online reviews and asking what former students say about them
The market analysis will help you decide on the direction and scope of your business, allowing you to differentiate from the competition and offer unique value to your customers.
Step 3: Recruit and Hire Staff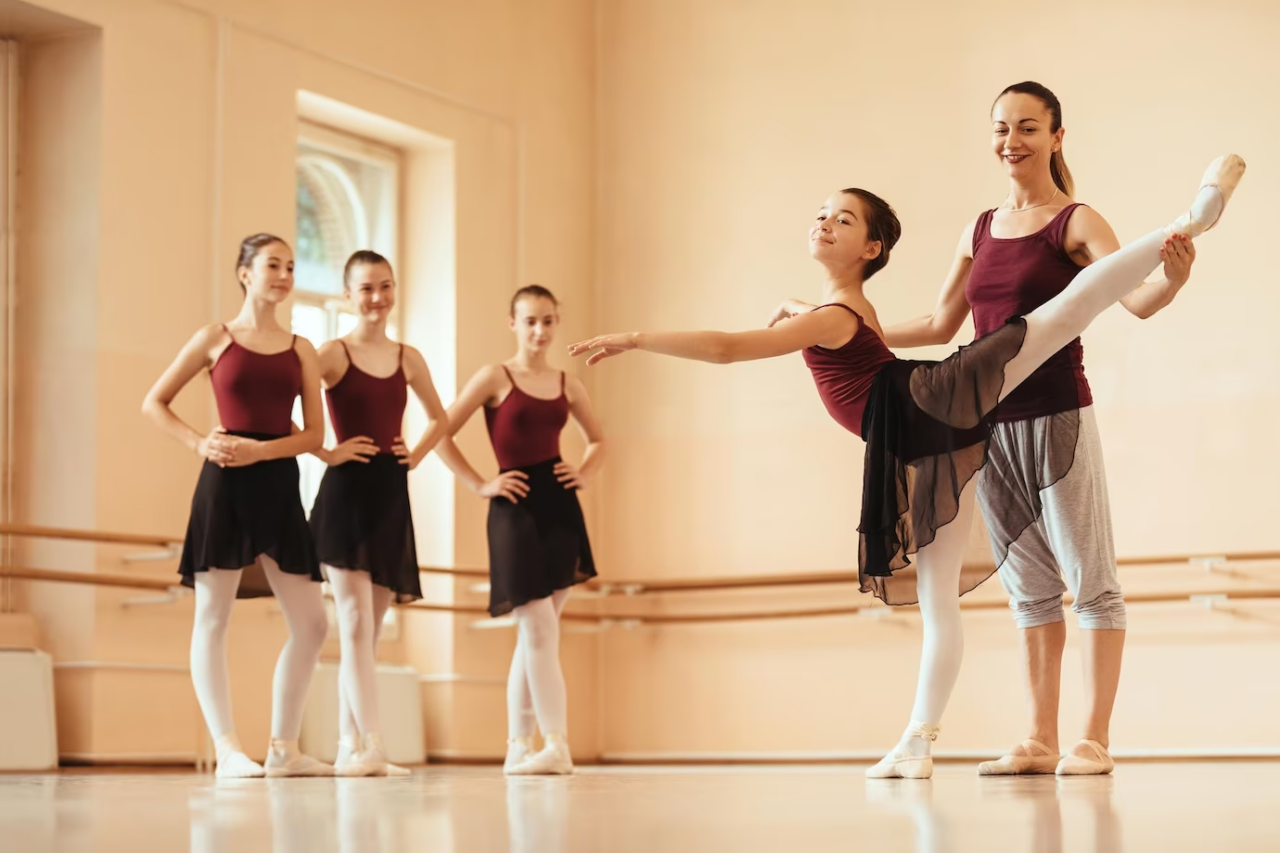 Image source: Freepik
Once you have developed a business plan and secured a suitable location, the next step is to find and hire staff for your dance studio.
Importance of qualified and experienced dance instructors
To ensure your students are in good hands, you must establish a proper recruitment process for hiring dance instructors. You must clearly communicate your expectations to potential candidates from the beginning.
Qualified dance instructors have the knowledge to provide high-quality training, motivate and inspire their students, and create a supportive learning environment.
It creates an optimal dance training experience, which ultimately helps retain students and build a positive reputation for your dance studio.
Create job descriptions and contracts
Creating job descriptions for your dance studio includes outlining the qualifications and skills required for each position, such as relevant education, certifications, and experience.
It also includes setting clear expectations and responsibilities for your staff and specifying performance expectations for each position, such as the number of weekly classes and attendance requirements.
When creating contracts, add details about compensation, including health insurance and retirement benefits. Incorporating terms for termination and resignation and non-disclosure and non-compete clauses is also essential.
Conduct interviews and check references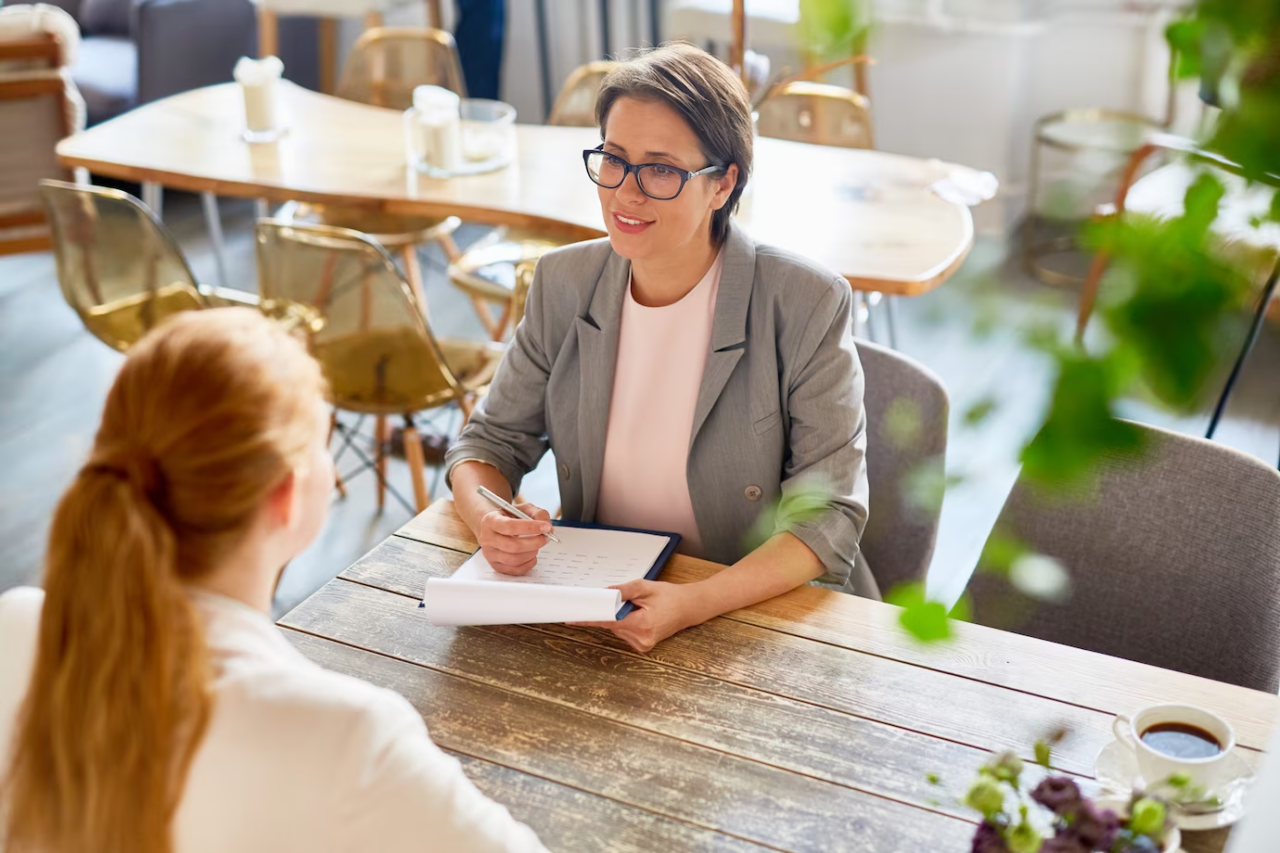 Image source: Freepik
Some recommended best practices for conducting interviews include:
Creating a list of questions beforehand
Taking notes during the interview
Using open-ended questions to encourage candidates to share more about their experience and teaching style
After the interviews, you should contact the candidate's references to verify their employment history, teaching abilities, and work ethic.
This step will help you select the most qualified and reliable candidates for your dance studio.
Step 4: Establish a Curriculum
Once you have hired dance instructors and other staff members, the next step is to establish a class schedule for your dance studio.
Create a curriculum for all ages and skill levels
To provide the appropriate education for each student, divide your dance curriculum into categories based on age and skill level.
It will allow you to offer classes to
Children
Teenagers
Adult dance enthusiasts
Beginners
Intermediates
Advanced dancers
Additionally, consider offering private lessons for students who prefer one-on-one instruction or have specific needs to attract a wider audience.
Incorporate a variety of dance styles and techniques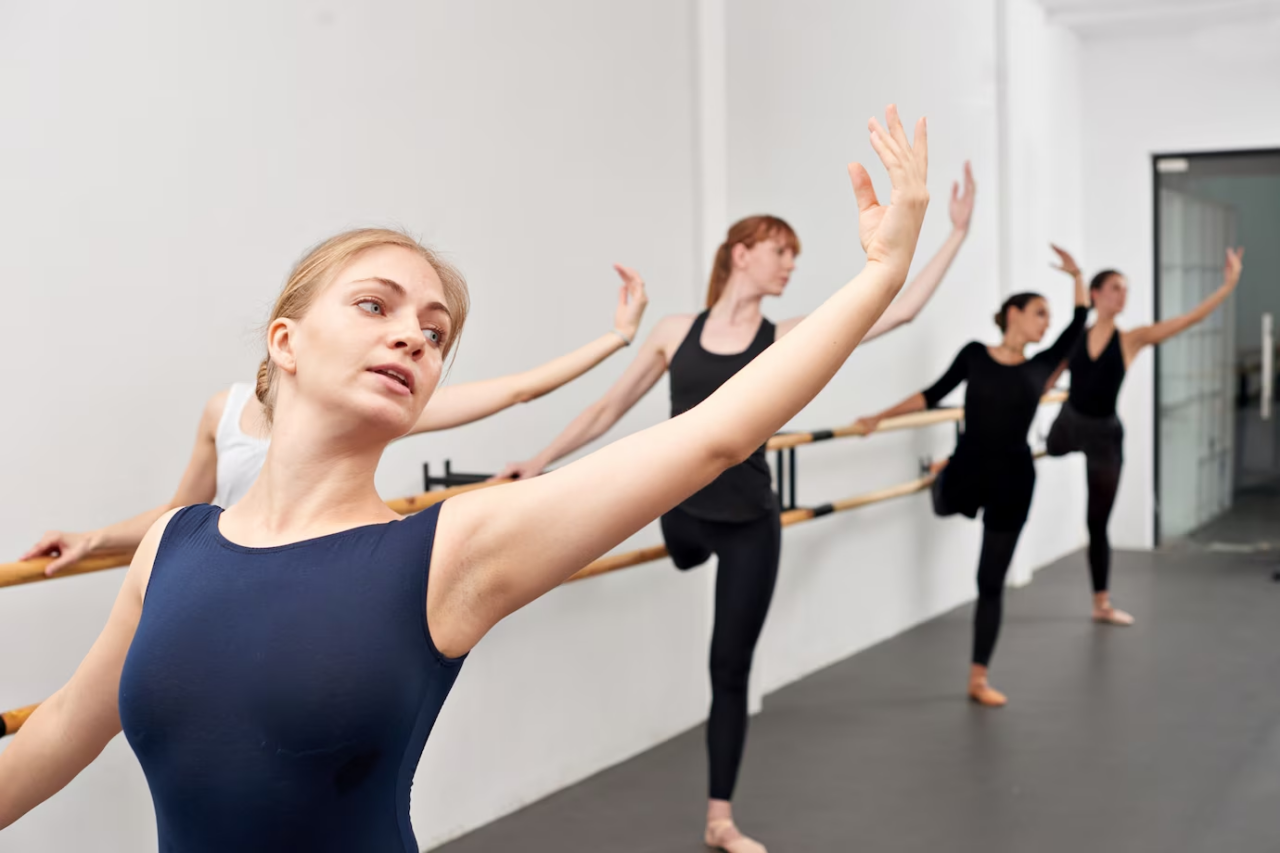 Image source: Freepik
When creating the curriculum for your dance studio, it's important to consider including various dance styles.
Some popular movement arts include ballet, contemporary dance, jazz, tap, and hip-hop dance classes.
However, you can also consider including other styles, such as ballroom, Latin, or cultural dances, depending on the interests and needs of your target market.
Evaluate curriculum effectiveness and adjust as needed
One way to do this is by collecting feedback from your students and their parents. You can also monitor class attendance and participation to identify areas where students may struggle or lose interest.
Use the results of your evaluation to make adjustments to your curriculum as needed. It may involve adding new or changing existing classes to better meet your students' needs.
Step 5: Manage Finances for Your Dance Studio Business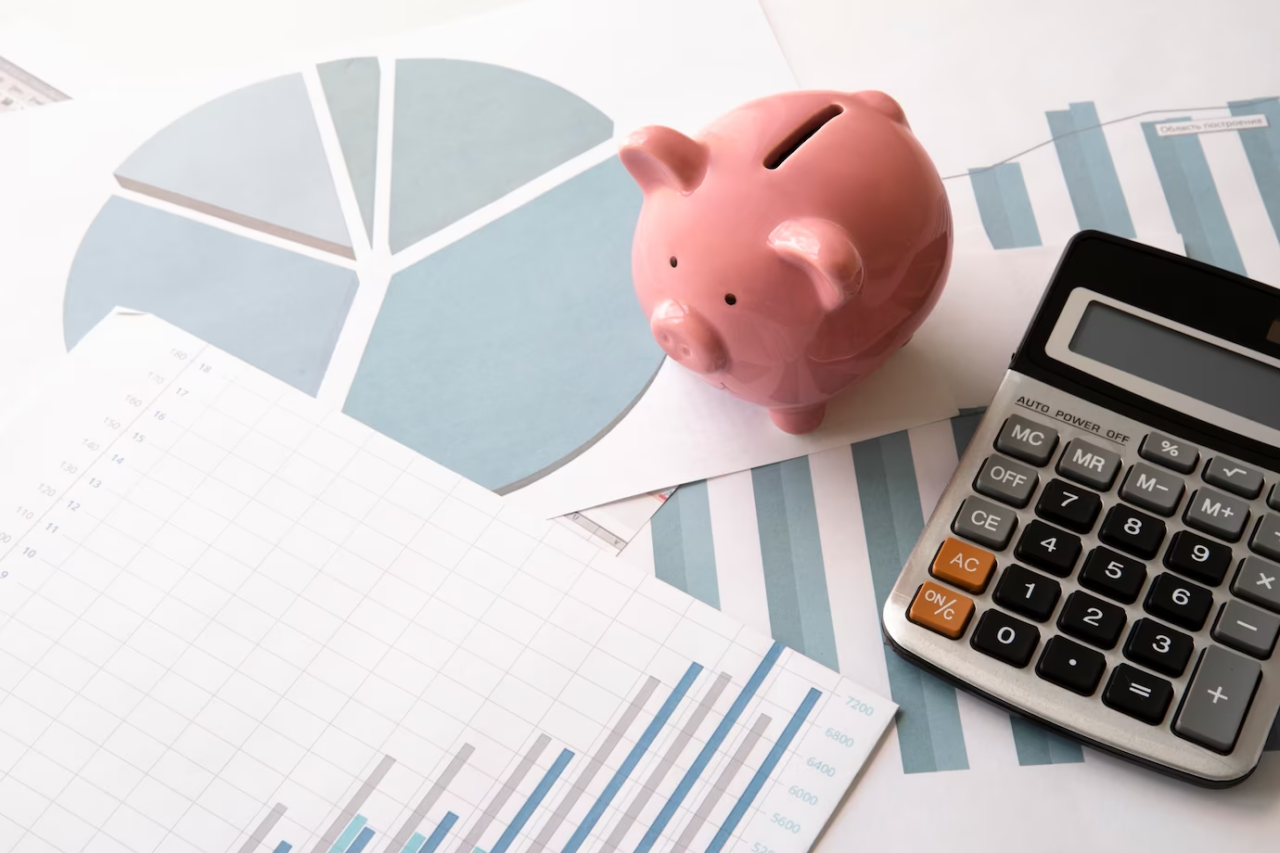 Image source: Freepik
Once your dance studio business is operational, it's time to consider how to price your dance programs. Before setting your rates, follow these steps.
Create a budget and pay taxes
Once you have listed your expenses, estimate your monthly revenue from classes, merchandise, ticket sales, and other sources. Deduct your costs from your income to determine your monthly profit or loss.
Use this information to adjust your pricing and costs to secure profitability.
As a business entity, you must pay taxes on your income. Ensure you understand your tax obligations, including federal and state income, sales, and payroll taxes.
Track expenses and revenue
You must regularly monitor your finances to stay within your budget and accurately record your expenses and revenue. Consider using billing software like Gymdesk or hiring an accountant to assist you with this task.
Calculate your "break-even" analysis
To calculate the break-even point for your dance studio, determine the number of students you need to enroll and the average monthly POS sales you need to make to cover your total annual expenses.
Here's the formula you can use:
Number of students needed to break even = Total annual expenses / (Average monthly membership fee + Average monthly POS sales per student)
For example, your annual expenses are $100,000, your average monthly membership fee is $50, and your average monthly POS sales per student are $10.
Using the formula above, you can calculate that you need to enroll 1,667 students to break even:
$100,000 / ($50 + $10) = 1,667 students
Calculating your break-even point can help you set realistic revenue goals and adjust your pricing and expenses to ensure profitability.
Step 6: Dance Studio Marketing and Promotion
Image source: Freepik
Now it's time to implement various marketing strategies to inform the local community about your new dance studio and attract potential students.
Create a strong brand
Developing a solid brand helps you stand out, build trust with potential customers, and create a loyal customer base.
Considering what sets your studio apart from others. Think about your unique selling points, such as the quality of instruction, the variety of classes offered, or the welcoming atmosphere of your studio.
Create a straightforward mission statement that communicates your values and differentiates your studio from others in the market.
Develop a marketing strategy
To effectively market your dance studio, ensure your strategies align with your brand message and visual identity.
Use online and offline tactics for your dance studio marketing, like email marketing, direct mail, print ads, and event sponsorships, to reach your target audience and increase brand recognition.
Advertise on social media
Social media is an ideal tool to promote your dance studio.
Use platforms like Facebook, Instagram, and Twitter to share images and videos of your classes, showcase your students' accomplishments, and interact with your audience.
It's an effective way to build brand awareness and draw potential customers.
Community outreach
Build relationships with potential customers and establish your studio as a community resource through community outreach.
Consider the following practices:
Partner with local schools
Participate in community events
Host free classes
Sponsor local organizations
Develop relationships with local media
Effective community outreach can build awareness and interest in your dance studio. It can have a massive role in creating positive word-of-mouth referrals and attracting new students.
Step 7: Use Software to Manage Your Dance Studio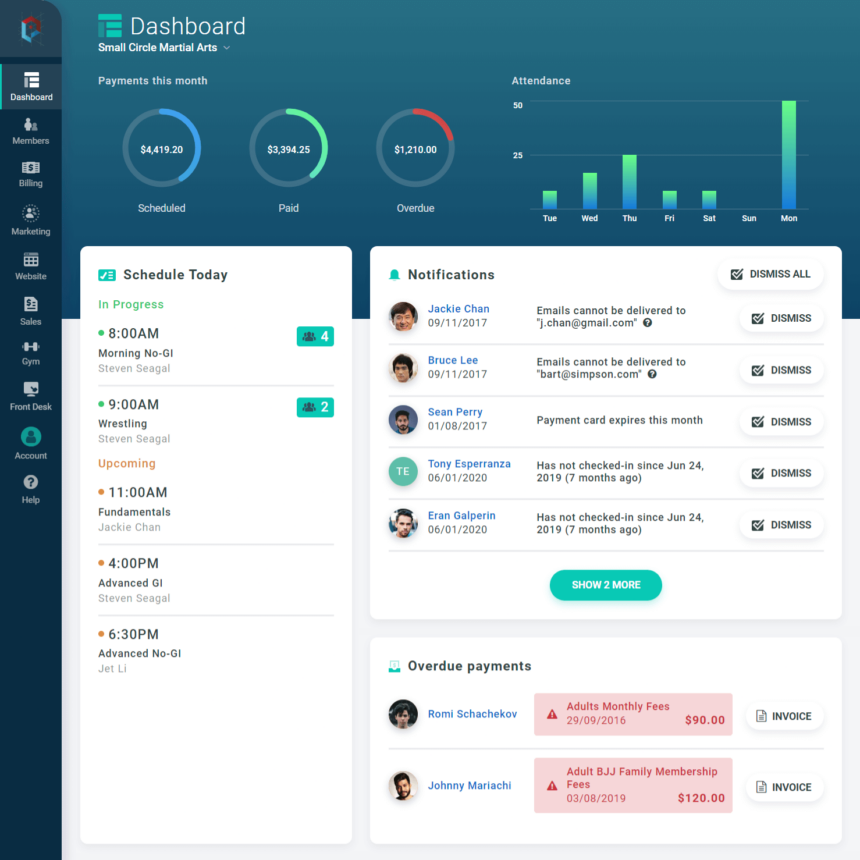 Gymdesk is a dance studio management software that helps you organize and grow your business.
It offers features such as class scheduling, attendance tracking, payment processing, automated billing, and reporting, as well as tools for marketing, customer relationship management, and staff management.
Dance studio owners can use Gymdesk to streamline operations, improve customer experience, and increase revenue.
All you need to do is start a 30-day free trial to access our platform.
Streamline your membership management process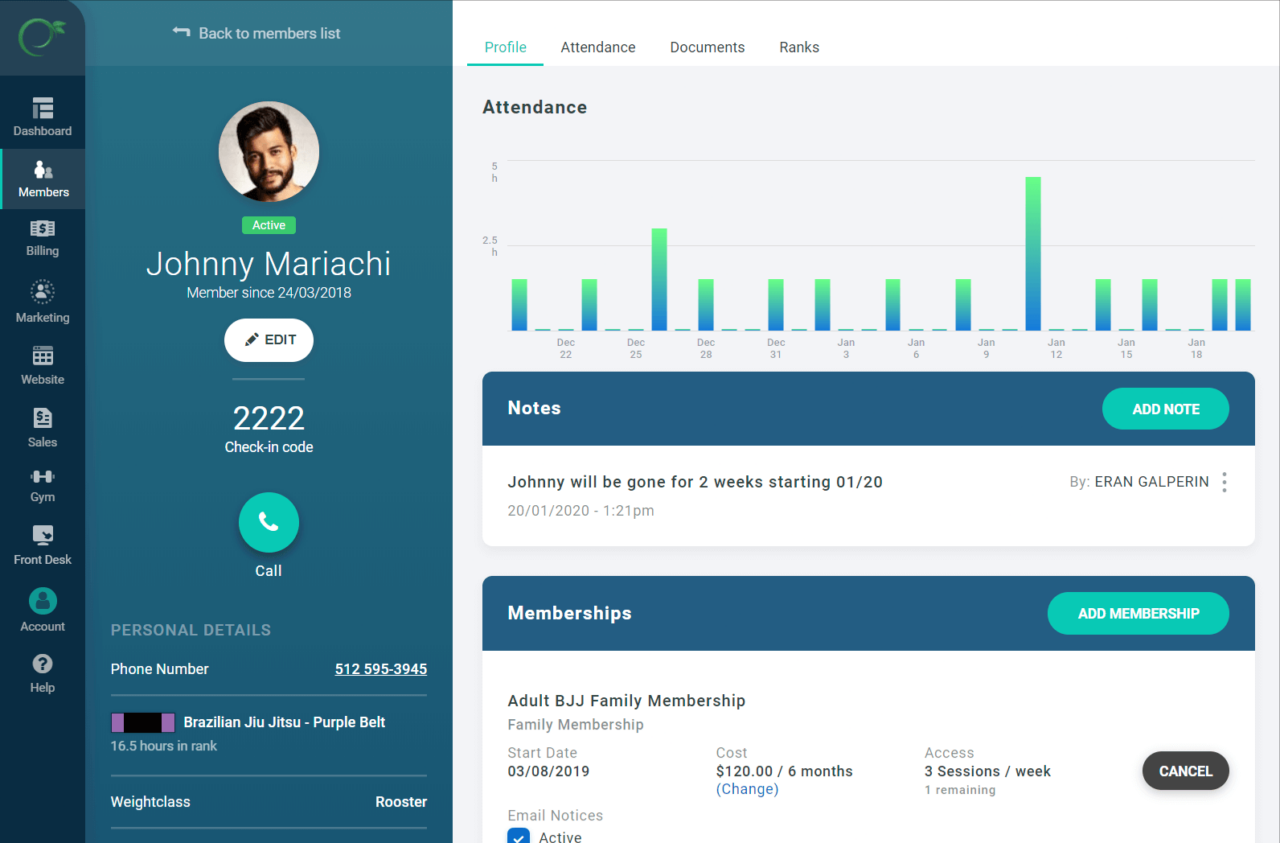 Gymdesk is the ultimate solution for member management. You can eliminate spreadsheets and paper forms and access your digital records anytime.
With Gymdesk, you can:
Access detailed information about your students
Manage your studio from any location using a laptop or mobile device
Sign up new members using digital devices for a seamless experience
Keep track of all referrals and their status in a centralized location
Handle memberships, access, and payments in one place
Easily import and export data as needed
Ensure your records are always current and accurate
Quickly resolve any billing issues that may arise
Monitor attendance history and track training progress for each student
Our easy-to-use platform allows you to manage all aspects of your gym's operations in one place. Don't take our word for it.
Try Gymdesk out right now with no obligation.
Simplify billing management for your dance studio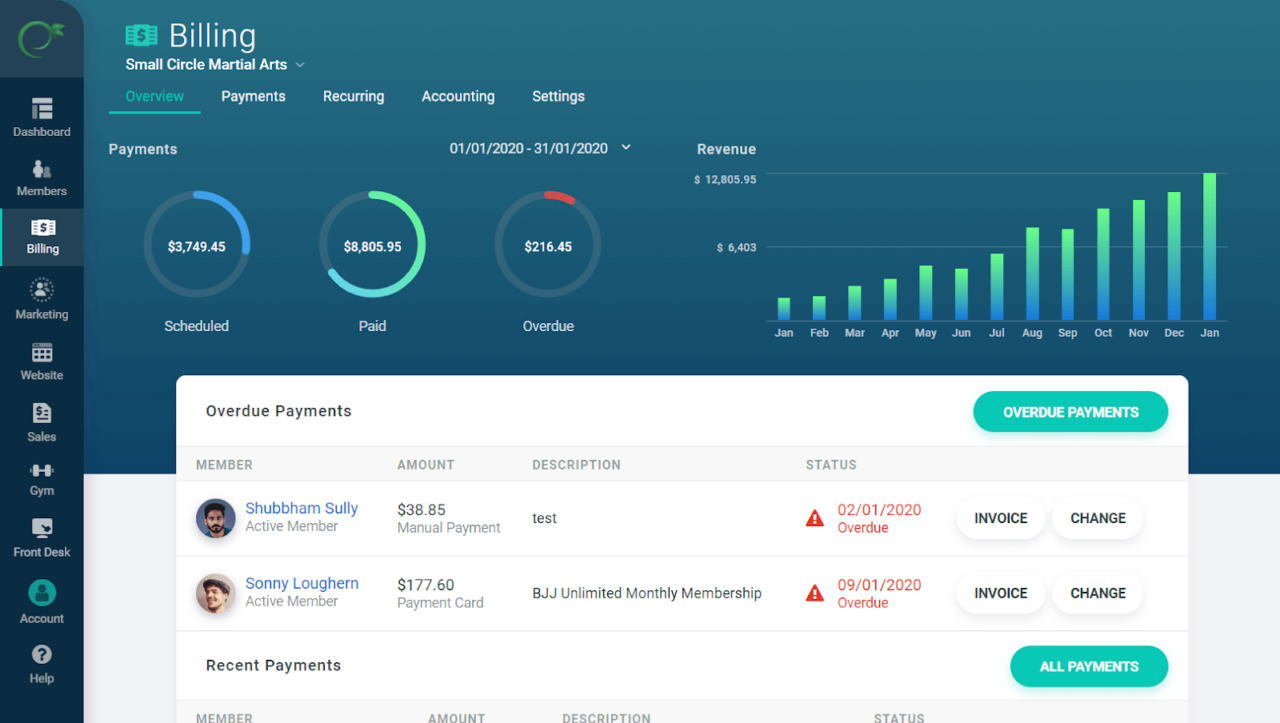 Gymdesk provides built-in billing software to keep track of your revenue, protect your dance studio from payment failures and resolve any billing issues automatically.
You can:
Track business expenses
Integrate with payment gateways like Stripe, Square or Authorize.net
Manage payments easily with on-demand, scheduled, and recurring payments
Accept a variety of payment methods
Stay on top of your finances with visual reports
Receive daily email updates on payment statuses
Allow members to pay their invoices and update their payment information online
With Gymdesk, billing students doesn't have to be overwhelming. Start your free trial and see it yourself.
Keep track of class attendance and monitor student engagement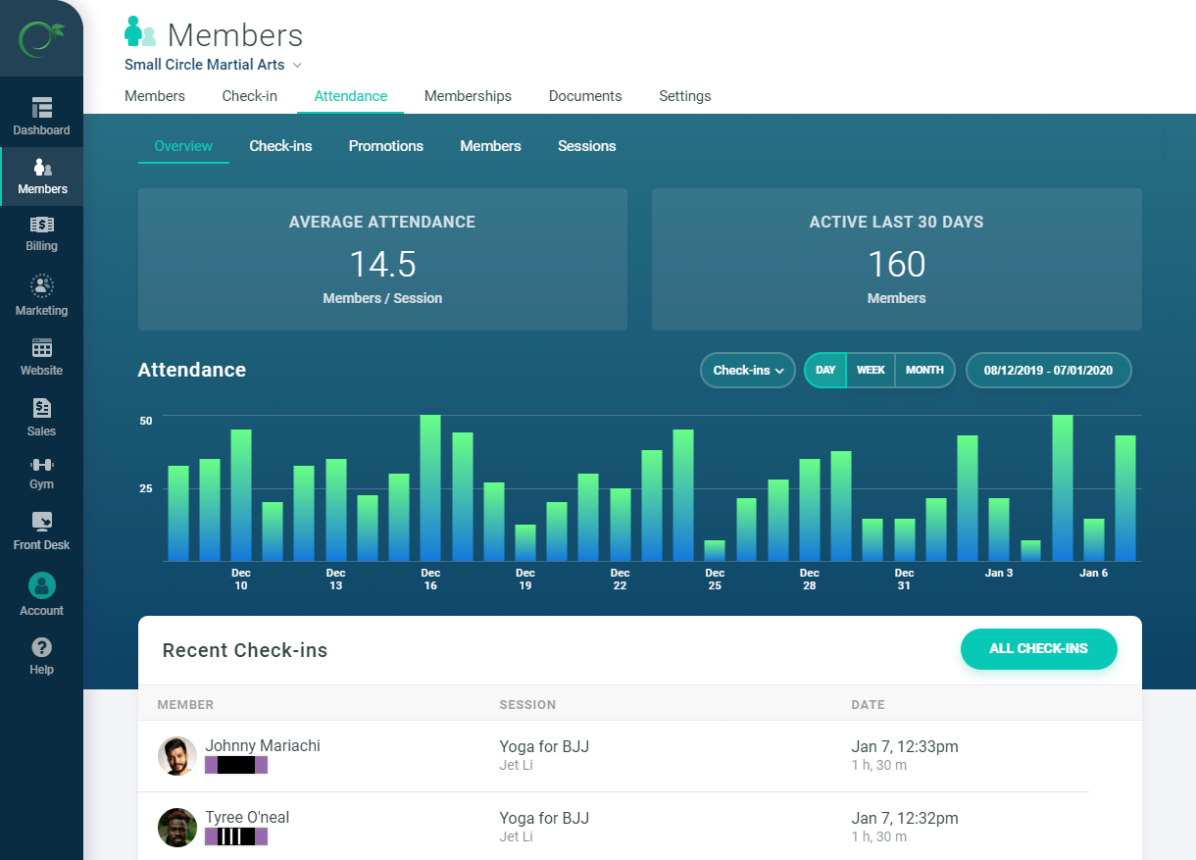 Gymdesk allows for member attendance tracking, eliminating the need for paper attendance sheets and making it easy to monitor student progress.
You can:
Provide a keypad for students to check in at your front desk
Keep track of foot traffic, member attendance, and demographics
Utilize advanced analytics to monitor daily, weekly, and monthly data
Track student progress and export data for offline analysis
Gain insights into popular instructors and dance lessons
Start your free trial and see why Gymdesk is the best class attendance tracker.
Optimize all transactions using a POS system

With our point-of-sale software, you can optimize transactions and improve the efficiency of your studio.
You can:
Accept payments using credit/debit cards or cash at your front desk
Keep track of products and inventory
Set up an online store to sell your products
Streamline your bookkeeping and accounting processes
Easily cancel, refund, or partially refund sales
Sign up now to sell your goods and increase your studio's profits.
Use marketing tools for lead generation and nurturing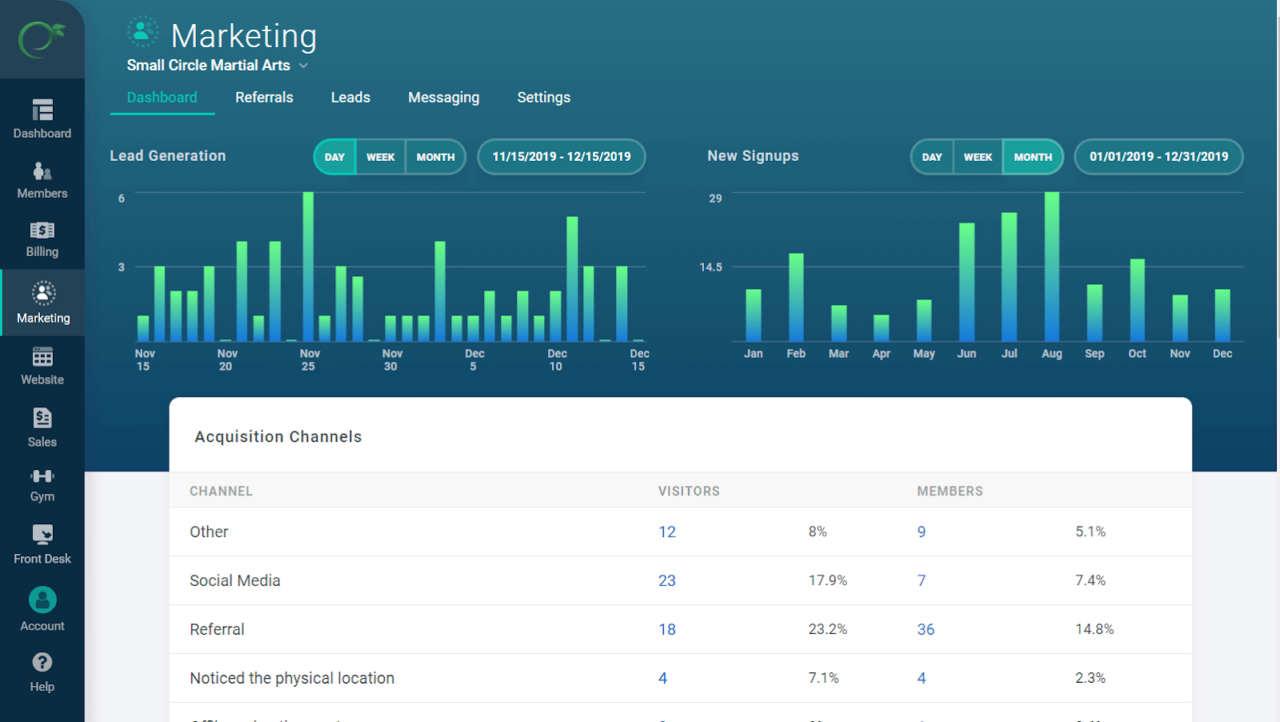 With our marketing software, you can sit back and watch your student base grow effortlessly.
You can:
Build an SEO-friendly website and save on advertising costs
Generate leads with custom opt-in forms
Automate mass email and SMS messages for better engagement
Follow up with leads and members to improve conversion rates
Keep students informed on updates, events, and promotions
Analyze student acquisition with advanced reports
Monitor progress with month-to-month comparisons
Track referrals and implement a referral rewards program
Sign up for a free trial today and see how easy it is.
Evaluate critical data using advanced analytics and reporting
Our reporting software lets you get a bird's eye view of your studio's overall performance.
You can:
Get detailed revenue and attendance reports
Evaluate the current health of your dance studio
Create custom member and billing notifications
Keep track of current and upcoming dance sessions
Get sales reports and compare different periods
Understand the results of your acquisition efforts
See how many students are churning
What's best, there are no complex charts or graphs – our easy-to-understand reports and dashboards let you evaluate crucial data in minutes.
Gymdesk is the ultimate solution for managing a dance studio because it offers a wide range of features to make your life easier.
Gymdesk is 100% online, making it accessible anytime, anywhere. It means you can organize your dance studio from the comfort of your home or while on the go.
It lets you keep records digitally, track student attendance and training progress, manage student enrollment, and create and organize your class schedule from one place.
All you need to do is sign up to start using our platform.
Conclusion: Building a Successful Dance Studio
To build a successful dance studio, you need dedication, time, effort, and a well-planned strategy considering all aspects of your dance studio's operations.
The right software, like Gymdesk, can help your studio stand out.
With advanced marketing features, and member enrollment and management, Gymdesk provides everything you need to grow your studio and attract new students.
You can track attendance, manage memberships, and monitor progress from one central location.
Our simplified billing system streamlines payment processing and reduces administrative tasks, allowing you to focus on growing your studio.
Its advanced reporting features also provide valuable insights into your studio's performance and help you identify areas for improvement.
Try Gymdesk for free for 30 days and experience the benefits of using the best software for managing your dance studio.
Frequently Asked Questions on How to Start a Dance Studio
Is owning a dance studio profitable?
Owning a dance studio can be profitable, but its success depends on several factors. These include the studio's location, the types of dance classes offered, the size of the performance spaces, the number of students enrolled, and the operating costs.
How do I start my own dance company?
If you want to know how to open a dance studio and avoid failure, here's our tip: Thoroughly research your competition first and the needs of your target audience. Learn about the existing demand in the local market. When you gather all the critical information, use Gymdesk to manage your dance studio.
What makes a good dance studio?
Some important qualities that a good dance studio should have include:
Qualified and experienced instructors
A security system
Safe and clean facilities
An accessible location with easy parking and public transportation options