An Explosive Framework for Building an Unstoppable Army of Students Who Attract MORE Students to Your School
A business that isn't growing is a business that's dying. Growth is not merely a thing which helps you rest a little easier, or accomplish a goal, or feel a little happier: it is a matter of survival for your martial arts school.
Reality TV has tricked us into thinking that survival is mostly a solo effort, man against wild. But all throughout history, survival has always been a community effort. That makes growing your martial arts school a community effort, too.
By community, of course, I mean your current or future body of students. While it's possible to build your school on your own through marketing, event booths, and one-to-one outreach, this will be exorbitantly expensive in terms of both money and time.
The answer is your students. Get the right students, blow their socks off with an amazing training experience, and then ask them to invite their people to join, too.
With that in mind, growth comes in three important phases:
Outreach
Retention
Referral
These phases represent an ideal journey, or "lifecycle," your students will follow from their first contact with your business to the day they end their memberships.
While you can and must engage in normal marketing activities, your current body of students will always be your most powerful and cost-effective drivers of growth. That's why this framework is focused on how your efforts attract, mold, and mobilize the right kind of students, to help you grow, at every step of their journey with your school.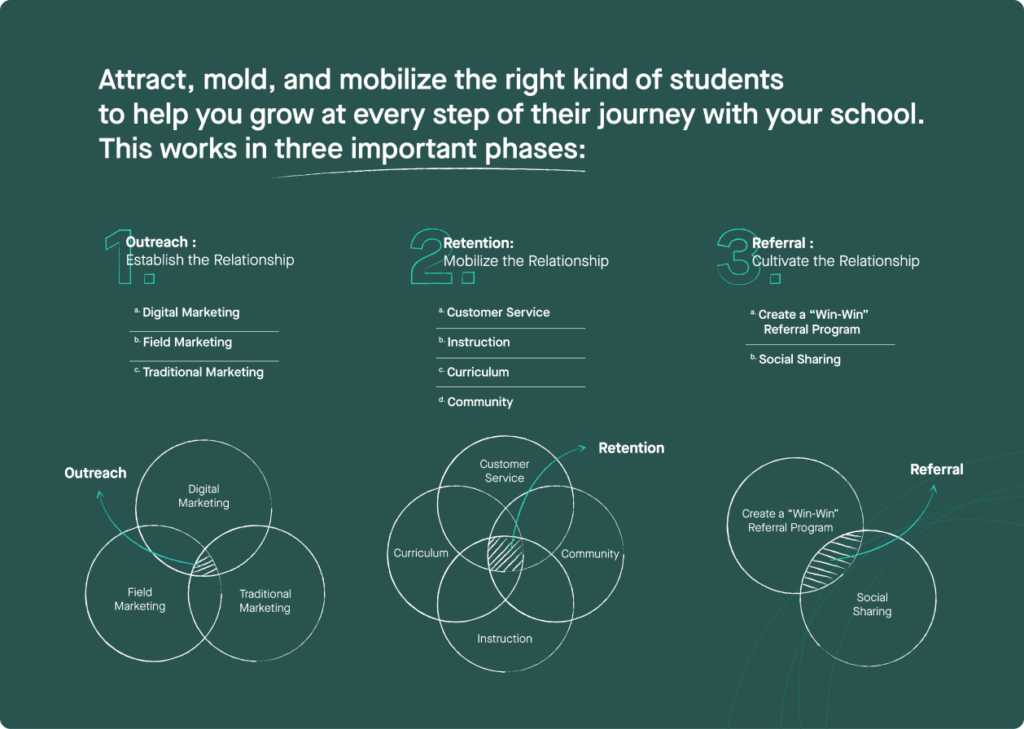 Outreach: Establish the Relationship
Every new relationship begins with a first impression, and your business's relationship with its clientele is no different. And like most relationships, how clients feel about your business will be dictated by the impression that that first contact makes on them…
So make it good.
The outreach phase envelopes both personal outreach — like talking to people face-to-face at events — and messaging, which consists of marketing copy for videos, flyers, webpages, and anything else that attracts new students without you necessarily being there in the flesh.
You should approach the messaging the same as the personal outreach: all your marketing material should communicate your brand's personality as well as the value it brings to the prospect through a tone that's conversational, engaging, and warm, like a friend.
In the sections below, I unpack what that looks like in a bit more detail. Three separate types of marketing are addressed, but in this digital age, the reality is that they all should (and will) work together.
Digital Marketing
It's a digital world now, whether you like it or not. A lot of martial arts school owners are still able to survive on old fashioned methods, but as the world becomes busier and noisier, this continues to be less and less tenable. Because everyone is online these days, it's increasingly clear that businesses that aren't fully leveraging digital marketing will soon be left in the dust.
Website
The website is foundational to your marketing activities both online and off. Because it's one of the few marketing channels totally under your control, most of your efforts both online and offline should direct traffic to your website.
To be effective, your website should look professional, aesthetic, and provide a good user experience. It should have all the necessary information that potential students might be looking for:
Phone Number
Email Address
Physical Address
Program Offerings
Class Schedule
Operating Hours
It should also be search engine optimized. Search engine optimization (SEO) involves upgrades to the technology and content of your website that make it more likely to show up at the top of Google or Bing search results, driving free traffic to it. For a more in-depth tutorial on SEO for your website, check out our SEO for martial arts schools article.
Owners who use the website that comes 100% free with their Martial Arts on Rails subscription already have a beautiful, user-friendly, perfectly search-optimized website out-of-the-box…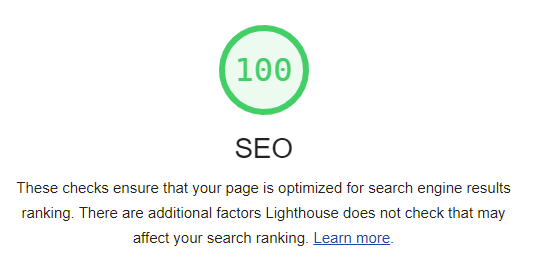 And I'm speaking here as a professional SEO who has worked with Fortune 500 companies as well as local businesses like yours. When I say perfectly search-optimized, I mean it: they routinely earn a score of 100/100 on Google's own SEO performance grading system. All you have to do is add good information about your products and services.
Digital Advertising
Search Ads
Google search ads are those "sponsored" listings you see at the very top of the search results page every time you type in a query and press enter.
A little trade secret: running search ads can also enhance your SEO. How? Running search ads doesn't directly affect your rankings, but searchers who see your ad at the top of the page are more likely to click your organic listing farther down.
Display Ads
You can also put up banner ads on websites. While you can run a service like this through Google's network, it's hard to control where it shows up and the quality of the website (and thus the traffic) varies. Remember that, as a martial arts school, you need local online traffic.
Instead, you can identify heavily trafficked local blogs and other types of websites and inquire about how much it costs to have an ad placed on their websites. Play close attention to how these ads perform, because they can quickly become a money hole.
Social Media
For martial arts schools, Facebook and Instagram will almost always be the most important and effective social network platforms to be active on. These two platforms also give you options for both organic reach and paid advertising to local audiences.
Organic Social
For Instagram, you want to use a combination of regular feed posts (permanent additions to your account's videos and images) and stories (short disappearing clips). Clips can get a lot of exposure. As a martial arts school, you can gain a lot of traction just by posting cool kicks, weapons forms, nunchaku tricks, sparring, and anything neat that you do weekly in class.
With good content out of the way, research good hashtags to add to each post to gain more exposure organically. This is where martial arts schools screw up. The big hashtags look promising, and they'll drive traffic to your Instagram account, but it isn't local traffic. In other words, it's useless for your business…it just strokes your ego.
Research popular local hashtags instead. You can start with your city name and branch out from there. Look for hashtags with 50 or more followers, at least. If you live in a bigger city, you should expect more followers on popular local hashtags.
Finally, you want to direct your watchers to your profile to click the link in your bio so that they can visit your website and potentially become leads.
It's a good rule of thumb to post at least three posts that are inspirational and/or educational in nature, with no sales call-to-action attached, for every one sales-oriented post. If you appear salesy, you look unhelpful. And if you look unhelpful, your audience will ignore your posts. Ignored posts mean less engagement, which means your exposure in the algorithm overall suffers, too.
Paid Social
Paid social allows you to run ads like Google search ads or display ads on websites, but with an important twist: you don't have to rely on people searching the right query, or visiting a particular website. Instead, with billions of users constantly using social media, you have a chance to get in front of them and grab their attention while they're using Instagram or Facebook.
And because it's advertising, you can theoretically scale up ads that are performing well as much as your budget allows. In other words, a good social ad could be a game changer for your school's growth.
One of the most powerful synergies you can create is combining social advertisements and direct-response marketing. To learn more about how direct response marketing works, how to pair the two, and how to create your first marketing "funnel," read our awesome guide: The Martial Arts Marketing Secret that Builds 6-Figure Schools.
Field Marketing
Field marketing is marketing done "in the field." This covers a broad range of subdisciplines, but for the purpose of this article, we're most interested in these two: event marketing and guerrilla marketing.
Event Marketing
Event marketing is exactly what it sounds like. You can show up to events to attract attention and get signups, or you can even create, design, and host the event yourself.
Here are several ideas for event marketing:
Free or low cost self-defense courses, seminars, & workshops
Anti-bullying talks & trainings
Verbal de-escalation training (if you have this expertise)
Introductory classes or courses to your specific style of martial arts
Setting up a booth at local events such as parades, runs, and festivals
Hosting a regular conference or symposium for your town on a subject somehow related to martial arts training
Webinars along the lines of the event ideas above
Event marketing is by no means limited to this list. Brainstorm the sort of events you could run or attend, how to leverage them for your business, and then start planning and executing.
Guerilla Marketing
This type of marketing envelopes weird, under-the-radar tactics for drawing attention to your business that sit outside of traditional and digital marketing strategies.
Interesting branded t-shirts that include clear calls-to-action
Pop-up tables at movie theaters when action and martial arts movies premier
Handing out VIP cards to people at the store to invite them to class
The #1 rule of guerilla marketing is this: be creative.
Traditional Marketing
Television and radio spots, billboards, print ads — these are all traditional mass marketing channels…
They're also exorbitantly expensive and difficult to track ROI, unlike digital marketing. Since most martial arts schools are too small to afford these channels, consider instead these more cost-effective but traditional marketing tactics that schools have successfully employed before:
Local podcast appearances (this is actually digital, but it's the closest alternative to radio)
Columns for local papers and blogs
Leveraging your events marketing to attract stories from local news media
Yard signs in legal spots across the community, especially the yards of current members
Brochure, flyer, or business card stands inside of other local businesses
Door-hangers distributed to local neighborhoods
Direct mail letters
Retention: Cultivate the Relationship
New student acquisition is the lifeblood of martial arts school growth. But no matter how fast you acquire new members, you can never out-acquire poor member retention.
If your students are the water and your business the bucket, the real secret to growth is patching up leaks in your bucket. And if you're running a business, the bucket always has leaks.
For service-based businesses like martial arts schools, patching those leaks comes down to improving service delivery. This breaks down along four categories we'll explore in this section:
Customer Service
Instruction
Curriculum
Community
Customer Service
It goes without saying that staff should always be friendly, positive, and helpful. But sometimes your students fall into genuinely hard or unforeseen hardships. During this time, it really makes a difference for you to look past your agreement terms and help them out best you can.
There are other things you can do to deliver excellent customer service, too. If a student misses class, or is out sick, or was even out on a planned vacation, you can send a personalized email or postcard letting them know they were missed in class.
Instruction
Instructors need to be good teachers — but they also need to be good people. A friendly demeanor is one thing, but taking an interest in the personal lives of students is the key to rich instructor-student relationships.
In fact, when I was an instructor, I had a nearly 100% retention rate for 12 months due mostly to the strength of my relationship with my students (and I know this because we didn't do belt promotions for almost 6 months at one point, and none of them even asked about it!).
Also, how you teach is just as important as what you teach. Good lesson planning and good instruction go hand in hand. An expert at Black Belt Magazine writes,
Design your classes so they're impactful and educational. Yes, it's great to have fun, but if your students aren't learning and improving in every class, you're doing them a disservice. To that end, get rid of as much fluff as possible. Vow to make every class an educational experience that will take your students one step closer to that next belt.[1]
Pulling the fluff out means getting rid of exercises that are just done to eat up class time — or, in some cases, eating up too much class time with lectures. Fill in that time with robust practice exercises instead.
Instructors should be charismatic, positive, and patient at all times. But they should also be engaged directly with the students throughout the class, not off talking to parents or in the corner observing during drills. Moreover, instructors have a nasty habit of over-coaching: giving too much detail, too much correction, in too short of a time frame. To learn how to teach better, check out our article on using the Socratic method for teaching martial arts.
Curriculum
Stellar instruction can't mask poor program structure forever. If your curriculum is boring, badly paced or structured, or haphazard, you students will eventually burn out and leave.
In general, you want a curriculum that is intensive and detailed at the beginner stages, but allows freedom to explore and self-direct learning into the intermediate and advanced stages. To learn more about this, check out our guide on building an excellent curriculum for your martial arts program.
Community
Community is perhaps the most important piece of the retention puzzle. While superstar instructors attract students and dazzle them in the early stages of training, it's the culture and attitudes of the classmates they train with at your school that really keeps them around.
Fostering a healthy, collaborative culture starts with your messaging: are you advertising and trying to attract people who are open, positive, and interested in developing themselves and others? If not, reassess your marketing materials.
Once you've attracted those students there, establishing that ethos is a matter of reinforcing those values periodically. That could include reminders during class that training partners are friends; that include encouragement to reach out and help newer students; or it could even include a formal code of ethics for trainees to embody.
While we want students to be friendly with everyone who attends the school, we also want them to be friends. Building meaningful relationships is an underrated retention strategy — and it improves everything else about your business, too.
An excellent way to encourage real friendships among your student body is to host members-only events. Ideas for these include:
UFC fight night potlucks or dinners out at the sports bar
School-wide picnics and cookouts
Parent's night out
School trips to see new action and martial arts movies
Laser Tag Night
The potential is infinite. And in fact, you can and should charge an admission fee for several of these events. Martial arts business expert Mike Massie says that "as a rule of thumb, a 200-student school should be making in the range $1,000 to $1,500 on special events every month"[2].
Be sure to alternate between adult and child-centered events month over month, with events sprinkled in for the whole family throughout the year.
But most importantly: have fun!
Referral: Mobilize the Relationship
People trust their people. With this in mind, we understand that student referral is the single most powerful and cost-effective growth strategy at your disposal, by far.
School owners make any of three major mistakes with referral programs:
Don't ask for referrals at all
Ask for referrals, but don't show appreciation through any sort of reward or perk
Show appreciation to the referrer, but does nothing special for the person referred
Even decent referral programs often forget #3. But if you include it, your program becomes a win for both the referrer and the person being referred. I like to call this the "win-win" referral program.
Here's a good example of a win-win referral program:
The referring student receives a discount on his or her membership (setting this up inside of Gymdesk is a breeze)
The student being referred, upon signing up, gets a special product for free or a deeper discount on their startup costs.
When I ran my own taekwondo club, I had a referral program where the only way to get a black dobok (uniform) was to successfully refer a new student — and both received one. It even had their names printed on the back. They looked super cool. And the kids and parents loved them.
But consumer-based referral programs aren't the only option. Sometimes, charity is a better action driver…
For realty marketing expert Craig Proctor, offering to donate a certain amount to a good cause per every successful referral has worked really well for him. An example of this would be a donation to the local children's hospital. "After all," Proctor writes, "what value can be placed on saving the life of a child?"[3]
This can be more manageable for you as a school owner while still driving the sort of action that a win-win referral program might.
For a more thorough treatment of how to build a rock solid referral system, please read our post on building powerful referral programs.
Social Sharing
Not all of your students will directly refer a new member to your school, but most of them can be convinced to share something about your school on their social media accounts at least once. While not quite as powerful as a direct referral, this can indirectly drum up interest among their local followers because of the implicit persuasiveness of seeing someone they like engaged positively with a new and interesting activity.
Maintaining fun, engaging, spectacular classes is the first layer of encouraging these types of social media shares among your students. The second layer is simply to ask.
Like your direct referral program, you can incentivise your students to make these shares by offering them extra value if and when they post something that references your business explicitly. You can measure this by check-ins, hashtags, name drops, or business/location/account tags, depending on the social platform.
Added value could be as simple as recognition, or it could be a free beverage or low cost item of some kind, or it could tie into a gamification system in place at your school. Get creative with it, test different things out, and then settle on the incentives that drive the most consistent sharing.
Conclusion
Growth is a matter of survival, and your school is no exception. Thankfully, survival has always been a team effort, and that includes your students.
However, if you don't attract, cultivate, and mobilize the right kind of students to help you, your school won't survive.
To help you grow your school and build up students who will help you grow, you should follow these three phases:
Outreach
Retention
Referral
Each of these phases represents a point in each of your client's "lifecycle," or journey, with you. It starts with the right messaging, to attract good people and make a good impression. Then you have to keep things interesting and fun so that they'll stick around. Finally, once they're raving fans, you can ask them to invite their friends and family to come train, too.
---
This article is part of a broader series on martial arts marketing. Click here to check out our guide, "Martial Arts Marketing: The Ultimate Guide."
To find out more on how our software helps enhance marketing for martial arts schools, check out our Gymdesk martial arts page.
---
References
[1] https://blackbeltmag.com/how-to-grow-your-martial-arts-school/
[2] Massie, Small Dojo Big Profits, pg. 196. Published by Martial Arts Business Daily.
[3] Kennedy & Buck feat. Craig Proctor, No B.S. Guide to Maximum Referrals & Customer Retention, pg. 101.