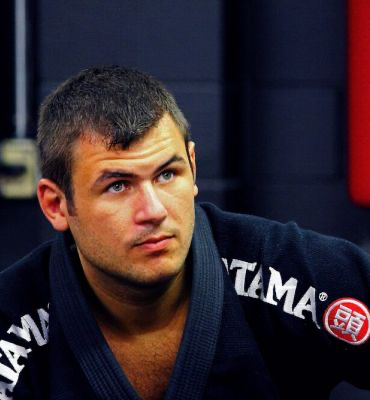 Kroyler Gracie and his school in Eikhart, IN, Kroyler Gracie Jiu-Jitsu, joined us shortly before the COVID-19 outbreak began in the US. Their support and input during this difficult time has been invaluable. We checked-in with Kroyler to learn more about his school and see how they've been handling this situation.
Eran (Gymdesk founder): Appreciate you taking the time to talk us, Kroyler – Please introduce yourself and your school to our readers.
Kroyler Gracie (Kroyler Gracie Jiu-Jitsu): My name is Kroyler Gracie, and I have been training [in Gracie Jiu-Jitsu] since before I could remember, and I have been teaching since I was 14 years old. I have been teaching full time for the past 16 years, and I train under the Grand Master Marcio "Macarrao" Stambowsky. My academy is located in Elkhart, Indiana, where I have been for the past 15 years.
Eran: Tell us about your academy – Kroyler Gracie Jiu-Jitsu – What is the story behind opening it?
Kroyler: Well I grew up training Jiu-Jitsu, its pretty standard in my family. However it wasnt until I was 20 that I decided this was what I wanted to do full time.
Eran: What did you struggle with when you were just getting started? What did you learn and how did you improve?
Kroyler: Teaching Jiu-Jitsu is not difficult, mostly because I love Jiu-Jitsu. The area that I always struggled with was the business and management side of the equation.
I have had a school for about 16 years now, and for a long time everything was managed through manual entry and an excel file I kept revising over the years. While I was proud of the excel file, it was far too time consuming and cumbersome in order to manage a growing school.
Knowing this I knew I had to get a management system in order to be most time and energy efficient. This is where Gymdesk shines.
Eran: What is involved in the day-to-day operations of running the institute?
Kroyler: Attendance, billing memberships, sales, and general day to day membership management (reaching out to leads, and students whose attendance has dropped).
Eran: How are you using Gymdesk to help manage your operations? How was it before and after you started using our software?
Kroyler: Gymdesk has greatly reduced the time I spend daily on doing my day-to-day and month-to-month operations. Essentially now I only spend between 30-60min a day and I can achieve better efficiency and results than when I was doing everything manually and spending hours a day.
(Learn more about using Gymdesk to manage your BJJ school)
Eran: What other tools do you use to help with managing your operations?
Kroyler: Since starting Gymdesk, I only use Google My Business for analytics and Facebook for social Media.
Eran: How did the COVID-19 pandemic affect your business? How did you adapt?
Kroyler: We were forced to shut down and reduce class sizes. Gymdesk quickly adapted and provided us with a way to record videos and create a video library for our students to be able to watch and practice from home. They also rolled out a feature for students to be able to reserve their spot on a class with limited sizes.
Eran: What is your approach for attracting new members? What worked for you and what didn't?
Kroyler: Social Media and Google Analytics have been amazing, and of course so has our website. We also have begun an amazing and comprehensive referral program!
Eran: How do you help members succeed and stay motivated through their training?
Kroyler: I reach out to my students every 10-15 days individually and check in on them to see how they are doing; I also tend to spend time with my students individually in class working on helping them address their individual Jiu-Jitsu-related struggles.
Eran: What are your plans for the future?
Kroyler: Move into a bigger building, maybe build my own. I would love to have Jiu-Jitsu reach as many people as possible.