The average cost of opening a gym is $245,000-400,000. We'll break down the costs and factors to consider.
Breaking Down the Costs of Opening a Gym
If you've been toying with the idea of getting into the gym business, the first question you need answered is "how much does it cost to open a gym?" In this article, we'll break down those costs to give you a good idea of what you'll be facing. Don't be overwhelmed by these numbers. Keep in mind that you're going to be creating a powerful revenue stream to offset these expenses and bring your gym dream to reality. But, like with most things, you've got to spend it to make it!
The cost of opening a gym will vary greatly depending on your location, the type of gym, and the gear you want to fill it with. However, you should be looking within the range of between $245,000- $400,000 to get your gym doors opened.
In this article, I'll provide an overview of what it could cost to give you a good idea of what your potential expenses for opening a gym are likely to be. It's important to note that, as well as your start-up costs, you also need to account for operating costs. A good practice that many successful gym operators have used is to have their base operating costs for the first 3 months in the bank before they open their doors.
Startup and One-Time Costs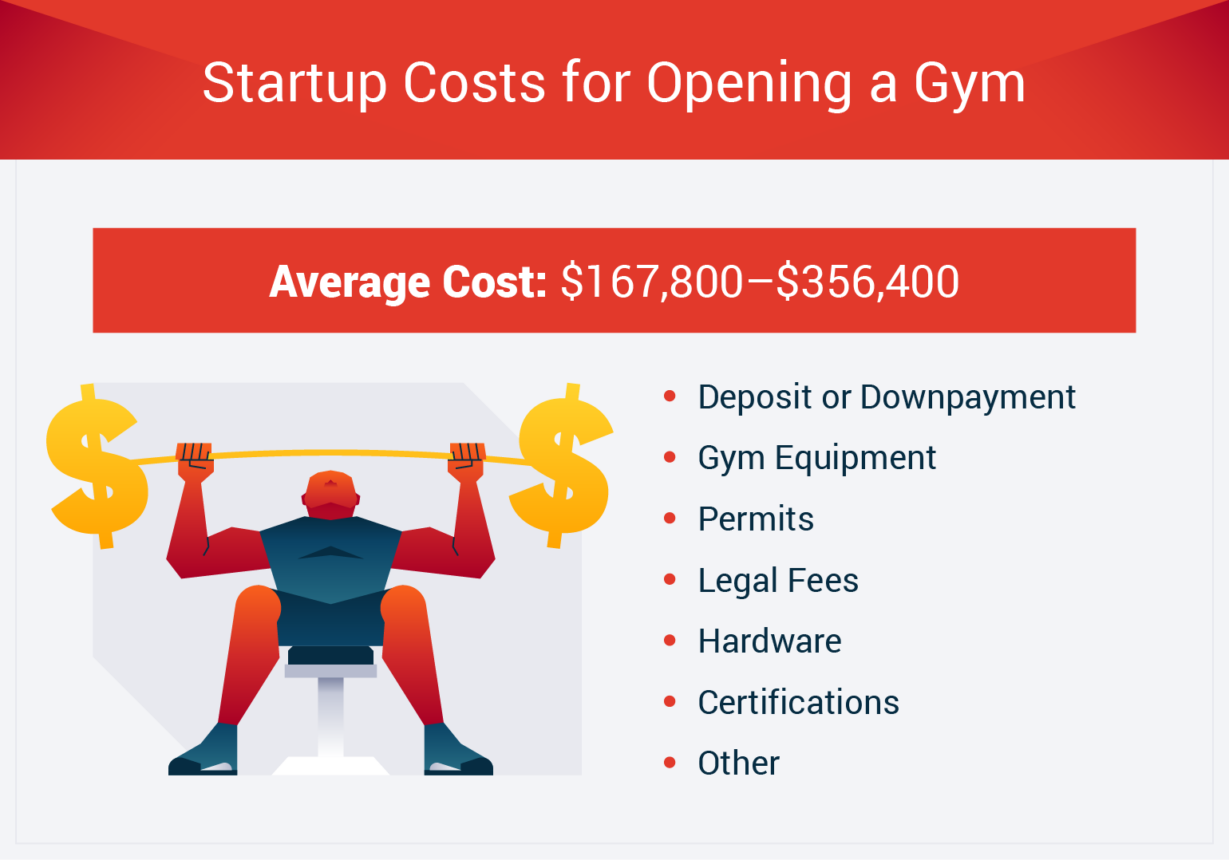 Lease Deposit or Down Payment
$45,000 – $90,000 (Lease)
$105,000 – $150,000 (Buy)
Your property costs are going to be your biggest start and ongoing expense. The money you spend will vary greatly depending on your location and the size of your facility. The average gym in the United States is 3,000 square feet. Depending on where you are, you can expect to pay an annual lease of $15-30 per square foot per year. That comes to an annual lease of $45,000 to $90,000.
Commercial landlords often request a lease deposit of between 3 and 6 months as a security blanket. This money is held in a designated account to be drawn upon by the landlord if the tenant fails to meet monthly payments or is in breach of covenants.
If you choose to purchase the property, you will have to pay a deposit to your lender of between 20-30 percent. Expect to pay between $35-50 per square foot. For a 3000 square foot building, that works out to a deposit of between $105,000 – $150,000.
Gym Equipment
$2000-$3000 (Lease)
$75,000 (Buy)
$10,000-$20,000 (Non-Training Equipment)
When it comes to equipping your new gym, your first decision is whether to buy your gear or lease it. Leasing is an affordable option that avoids a huge upfront cost and allows you to update the equipment regularly. You also generally don't have to worry about maintenance as this is usually the responsibility of the lessor. There are also tax advantages in the United States with leasing. Thanks to 2017's Tax Cuts and Jobs Act, lease payments are 100 percent tax-deductible.
I've run gyms where I've both leased and purchased the equipment. If I were to do it again, I'd lease. That experience was less time consuming, more streamlined and the fact that the gear was replaced with newer models every 2 years kept my gym looking fresh.
You can expect to pay between $2000-$3000 per month to lease gym equipment for a 3000 square foot facility. Some lenders will also require a one month deposit
If you don't plan to regularly update your equipment and don't enjoy the prospect of never actually owning your gear, you can either buy your gear outright or secure an equipment loan. A rule of thumb for the cost of gym equipment is $25 per square foot. So, for a 3000 square foot gym, your equipment is going to set you back around $75000.
If you decide to buy your equipment by way of an equipment loan, you will have an ongoing expense of $1000-$2000 per month (and you'll be paying interest on it). You should also put aside a couple of hundred dollars per month for equipment maintenance (remember, this is covered if you lease the equipment).
Your equipment costs will include non-training equipment. This will cover such items as …
Couches
Chairs
Tables
Towels
Wall Decals and Artwork
You should budget an extra $10-20,000 for these expenses.
Licensing and Permits
As a commercial business owner, you will be subject to several licensing and permitting fees. It is vital that you adhere to all of the legal requirements from the very start to stay on the right side of local and Federal authorities. Before you can open your gym doors, you will need to complete the paperwork and pay for the following:
A business license
Trade name registration
Health & Safety certification
Employer registration
There may be other licensing and permitting requirements in your area so be sure to do a deep dive through your local council. As a general guide, you should set aside $5000 for licensing and permitting fees.
Legal Fees
$2000
You will need to employ the services of a lawyer to process the lease or business sale agreement and any other deals that require legal processing. You can expect to pay up to $200 per hour. I recommend allocating $2000 for start-up legal fees.
You should also anticipate that you're going to require legal services on an ongoing basis, so it would pay to set aside around $5000 per year for legal fees.
Building Remodeling and Decor
$105,000
When you get the keys to your building, you'll have a blank canvas. It probably won't even remotely resemble a gym. To finish out your building, you're going to have to spend some serious money.
To get a generic building gym-ready you may have to install showers, lockers rooms, gym flooring, function training area turf, a reception area, and snack bar fittings.
To transform what we could call a plain vanilla box building into a kick-ass gym setting, you should budget $35 per square foot. Based on the 3000 square foot gym average, that comes to about $105,000.
That is a huge initial investment. However, you may well be able to negotiate some or all of that cost with the landlord. Sometimes a landlord may be willing to pick up the entire refurbishment cost in return for a little more in rent. Or the landlord may be willing to put in half of these improvement costs. Of course, you may have a landlord who's not willing to contribute to this expense, but you will never know unless you try to negotiate.
In one gym that I was negotiating a lease for, I told the landlord that I'd have to spend around $60,000 on improvements to get the building ready to open and would be better off going with another location that already had showers and lockers. Rather than losing a long term tenant, he offered 6 months free rent!
Hardware and POS System
$1400
For some of the top of the line, you will need to invest in a quality point of sale system to seamlessly process payments and integrate the data into your software system. Your gym POS system should include a credit card magnetic reader, an electronic cash drawer, a mobile barcode scanner, and a receipt printer. Your initial investment for POS hardware will be around $1400 with an ongoing monthly payment of around $100.
Your $1400 hardware costs will get you the following:
2 x Tablets
2 x Card Readers
1 x Printer
1 x Cash drawer
The monthly software cost depends on how many licenses you need. VendHQ, for example, provides a single iPad license for $99 per month.
Gymdesk is a vastly more cost effective solution, however. We offer a fully functioning POS system and integrate great terminals and card readers. Instead of spending $1,400, you'll spend $300 or less in initial costs, with everything else included in your affordable monthly subscription fee to Gymdesk.
Certifications
$400-$1000
Most people who are considering opening a gym will already be experienced fitness trainers with several fitness certifications under their best. If you don't, I would recommend that you enroll in a course with the International Sports Sciences Association. These courses cost between $400-$1000 and can be completed online.
Other Costs
$2000
You will need to allocate funds for branded signage. You need your signage to get attention and project the professionalism and wow factor of your business. To achieve this you should set aside $1000.
Another potential start cost is employee uniforms. You'll have to decide whether you want to go with branded uniforms. In my opinion, the extra expense is worth the extra level of professionalism that is projected by a smart uniform. For a staff of half a dozen, a simple uniform featuring track pants and a branded t-shirt will cost around $300.
Your gym needs to be supported by a responsive website. You can expect to pay around $700 to get a professional website built.
Ongoing Operating Costs
Wages and Taxes
The wages you pay will be determined by the number of staff that you have. As a general rule, you should plan to employ one staff member for every 50 members. So, a 1000 member facility will have 20 employees, including front of desk staff, floor trainers, cleaners and sales and marketing staff.
Employee payment will be your largest ongoing expense. Here are the current average salaries for the key gym appointments:
Fitness Instructor – $40,000
Personal Trainer – $58,000
Gym Manager – $69,000
If you have 20 employees you should plan to be spending in the vicinity of $700,000 – $900,000 annually on employee payments.
When it comes to personal trainers, you will need to decide whether you will employ them or allow them to operate as independent contractors. The IRS has strict guidelines as to whether a person should be an employee or an independent contractor. According to them, you should employ your trainers if …
The gym markets the personal training service, takes bookings and collects payments.
The gym sets and evaluates training programs.
The service is an integral part of what the gym does.
There are a number of ways that compensation packages are structured. The most common are a straight percentage of revenue, a sliding scale, a tiered plan and an hourly rate or a salary.
A typical personal trainer's straight percentage rate is 50 percent. On a sliding scale, the trainer earns more money by bringing in more clients / sessions per week. So a person who conducts 15 sessions per week might make $20 per session, while one who gets in 25 sessions earns $22 per session. With a tiered system, the rate that the member pays, and that you and the trainer make, depends on the experience level of the trainer. On a wages system, a personal trainer is often paid two hourly rates. When they are training a client, they might make $17-$20 per hour and when they are not with a client, they make $9-$12 per hour.
You will also need to allocate funds for payroll and self-employment taxes. In some states, you will have to pay these taxes quarterly, so check the situation in your area and plan accordingly. In terms of self-employment tax, setting aside 10 percent of what you pay yourself, will cover your tax department obligations.
Lease/Mortgage Payments and Utilities
Unless you're coming into this venture with a huge bankroll, you will either be facing monthly lease or mortgage payments. As mentioned in the previous section, you can expect to pay $15-$30 per square foot to lease a building and $35-$50 to buy it outright. That means that your monthly lease/mortgage payments will range between $3750-$7000 per month.
Your monthly utilities costs will primarily be made up of electricity expenses. That cost will depend on how many plug-in machines you've got on the gym floor. For a 3000 square foot gym that is well equipped with cardio gear, you can expect to receive a monthly utility bill of around $2500.
Marketing and Advertising
Your open day marketing budget should be $3000-$5000. After that, you should set aside 7.5 percent of your monthly turnover for marketing costs. Your gym marketing strategies should include a vibrant online presence through your website, Instagram and Facebook.
Gym Management Software
Spending money on quality gym management software will save your staff hours of back-end labor every week, streamline your business and allow you to offer a more personalized, responsive service to your members. Look for a system that incorporates lead management, automated billing, membership management, and staff management. It should also have a mobile app, and integrate with your website.
You should expect to pay around $175 per month for good gym management software.
Gym Insurance
$500-2,000
Before you open your doors to the public, you need to ensure that your business, and you personally, are going to be protected if your members suffer an accident or injury on the premises. As a result, you need to get yourself fully insured.
Here are five types of insurance that you should consider:
General liability insurance to cover your employees if they are found to be responsible if a person on the premises suffers an accident or injury.
Professional liability insurance to cover employees' acts of omission that lead to accident or injury. This could include not putting an out-of-order sign on a piece of faulty equipment that subsequently causes injury.
Business Income & Extra Expense insurance to cover the expenses of relocation and repair in the event of a fire, earthquake, or flood.
Worker's compensation insurance covers you if an employee brings a work-related injury claim against you.
Equipment Breakdown insurance. This one won't apply if you are leasing the equipment.
Maintenance and Repairs
Even if you are leasing your equipment, you will incur wear and tear expenses related to other hardware in the gym, including couches, flooring, window coverings, and computers. You should budget $500-$1000 per month to cover these expenses.
If you are buying your gym floor equipment, brand new gear will be warranty covered. However, you might also be able to pick up some gear second-hand, in which case you'll also need to be prepared to pay for breakdowns. Plan to put aside $25 per month for every piece of second-hand gear in the facility.
Miscellaneous Expenses
Paying for the services of a freelance fitness writer is an investment that has proven beneficial for many gym owners. This will allow you to provide cutting-edge content to provide to your members in emails and on your website's blog that cement your position as the industry expert and the go-to solution to all of your member's fitness, training and nutrition questions. For around $500 per month, you can keep a constant flow of educational and engaging content flowing to your members.
Factors Affecting The Cost of Gyms
The Type of Gym
The most important factor that will influence the cost of your new gym is what type of facility you will be operating. Your options are broad-ranging from a small, boutique gym, a CrossFit box, a functional training center, a personal training studio, yoga, boxing or pilates studio, an underground bodybuilding 'dungeon', and a family friendly bog box fitness gym.
The cost to open a small functional fitness center fitted out with turf, sleds, battle ropes, TRX stations, and other functional gear will be very different from those incurred with a 50000 square foot family fitness center. In fact, you can probably get your doors opened in a small functional fitness center for less than $40,000.
Location
There is a vast difference in leasing and rental costs depending on what part of the world you're located in. The decision of whether to situate your business in the central city or out in the suburbs will also make a big difference.
When it comes to selecting the location for your gym, consider the following factors:
Visibility: Gyms that are situated in heavy traffic areas will have a natural advantage.
Demographics: The Covid pandemic has led to many more people working from home, so locating close to developing residential areas can make a lot of sense. Most new residential areas will see a shopping center sprouting up. Having your gym alongside the local area market would be a prime location to attract health-minded people with a little discretionary income.
Research: Conduct market research in your proposed area to identify the need for a new gym. If gyms already exist, find out what they're doing well and where they fall short – this will be your area of focus.
Cross Promotion Potential: If you can locate yourself near complementary businesses like massage therapists, chiropractors, or health foods stores, you'll open the potential for cross-promotion.
Parking: Lack of parking is the bane of many gym-goers. Be aware of the need to provide your members with plenty of parking space when you're scouting out your location.
Franchise or Independent Gym
One of the first decisions that a new gym owner has to make is whether to go out on their own or buy into a franchise. While it seems that franchises are taking over the gym landscape, you can still find a few independent gyms in every city that have built a loyal following based on personalized attention and cozy homeliness.
The biggest advantage of purchasing a franchise is that you have immediate name recognition. Even though you are brand new, the company that you are part of will have developed a reputation in the fitness industry. A franchise that also plugs you into a marketing and business system that is proven to have worked over and over again.
As a franchisee your fee will include all of the equipment, fitting out of the location, and training of your staff. The franchisor will also select the location.
There are some negatives associated with franchising. For a start, you won't have anywhere near the independence of a sole operator. If you are a creative entrepreneur you may find it challenging to have your business innovation stifled by company regulations. Franchise fees can also be high and you will be required to pay a percentage of every membership fee to the franchisor.
Another potential problem that some gym franchisees have encountered is that the bad actions of another franchise on the other side of the country can reflect badly on the entire gym chain, negatively affecting their button line.
When it comes to the cost of a franchise, you have to take into account the initial franchise purchase and the ongoing royalty fees. Average gym franchise costs in the United States in 2901 were $80,000-120,000 with a royalty fee of 6 percent. Most franchise agreements are signed for an initial period of 10 years.
Funding Options for Your New Gym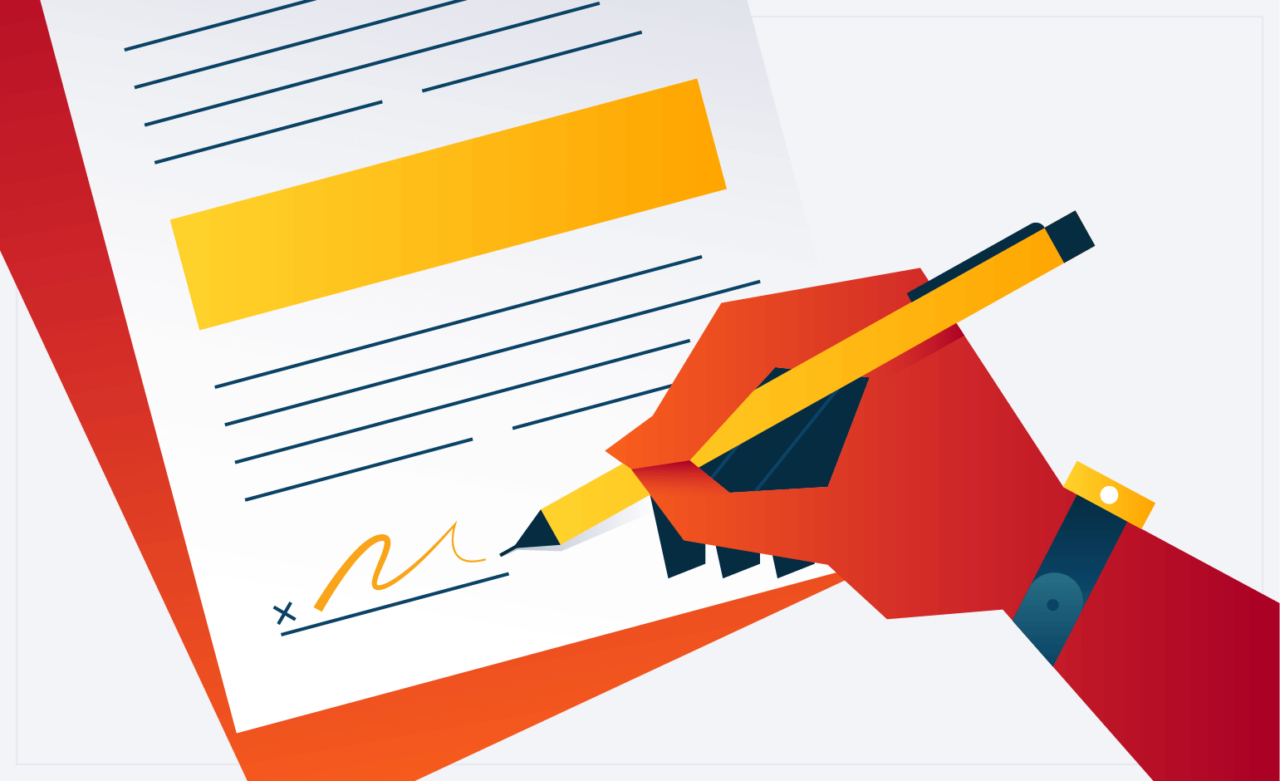 Government Loans
The US Small Business Administration (SBA) offers government loans to establish small businesses. Government regulations are such that the loans are prioritized for the following groups of society:
Women
Minorities
The Disabled
SBA loans are offered at reduced interest rates compared with banks and private lending institutions. However, the approval process usually takes much longer so be sure to get your application in well ahead of time.
Private Loans
To secure a loan from a bank or other private lender, you will need to present them with a comprehensive business plan, a marketing plan, identification documents and have an established impeccable credit history. The big plus of getting pre-approval from a private lending company is that you will have a secure line of credit. The cost for that security, though, is a relatively high rate of interest. You may also have to come up with some sort of collateral against the loan.